How did Robert Johnson die
Robert Johnson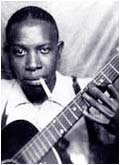 The most legendary of all bluesmen is undoubtedly Robert Johnson. More has been written about him than about any other blues singers. John Hammond once described him as the "greatest, primitive blues singer of all time". He created blues songs of high poetic quality, such as 32-20 Blues ", Preaching Blues", "Crossroads" or "Hellhound on my Trail". He mastered the bottleneck game to perfection, had an enormous aura and was considered the restless King of the Delta. He left 29 songs for posterity, all of which were recorded during five sessions in 1936/37. His influence on the Chicago blues should not be underestimated, nor on that of the white blues music of the sixties, of which almost all soloists and groups had his songs in their repertoire.
Johnson was born around 1911/16 on a farm near Clarksdale, Mississippi. As a child he played the harmonica. From his role model Son House he copied the first fingerings on the guitar, but soon developed his own technique. In the south of the USA he was not only a musician, but also a notorious philanderer. He was often accompanied by Johnny Shines, with whom he was once in Chicago. A short detour to St. Louis, where he worked several times with the blues singer and guitarist Henry Townsend, is also considered safe. In 1936 Johnson recorded his first records with producer Don Law in San Antonio, Texas. He made his last recordings in June 1937 in Dallas. Only six months later Johnson was dead. The wildest rumors circulate to this day about the circumstances. The most widely voiced and accepted version is that he was murdered by a jealous husband. Other sources cite a jealous friend. John Hammond wanted to present Johnson at his From Spiritual to Swing concert series, but was too late.
In 1994, Robert Johnson received a late honor: his picture was shown on a US postage stamp - but without a cigarette, because the American non-smoking lobby had vehemently protested against the cigarette. Master director Martin Scorsese filmed the life of the blues legend under the title "Love in Vain".