What is serenity in football
Jürgen Klopp and the discovery of serenity
"18 years old? Wow!" Jürgen Klopp himself seemed a little surprised at how long he had been sitting in the dugout. A reporter had asked the coach of Champions League winners Liverpool FC before the final of the Club World Cup in Qatar how his way of training had changed over the past 18 years. The 52-year-old actually didn't go into that in his detailed answer. Rather, Klopp stated that he "naturally developed primarily as a person". "I'm calmer than I used to be, I'm not so easily nervous or overly excited. That's the good thing about age, which you obviously don't know yet," said Klopp to the apparently much younger reporter. "But you'll see that's cool."
Become a better trainer
Klopp began his coaching career in 2011 with the then second division club FSV Mainz 05. He kept making headlines because of his outbursts of anger on the sidelines. In 2013 he attacked the fourth official in the Champions League game against SSC Napoli so massively that he was banished to the stands and then suspended for two games. Klopp is still committed when he coaches his team, but he no longer allows himself to be really freaked out. His successes have made him more relaxed. "I'm a better coach than I was at the beginning, 100 percent," said Klopp in Doha. "More people know me now. It's not too cool, but it is a sign of some successful moments in my life."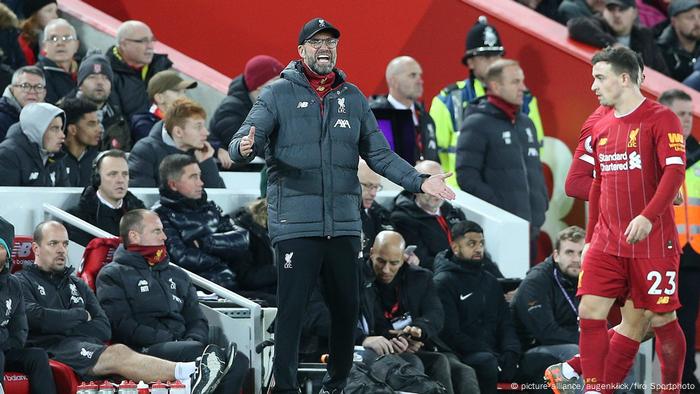 This is how Jürgen Klopp is known as a trainer: always 100 percent
World coach 2019
After all, Klopp not only has two German championship titles and a DFB Cup victory with Borussia Dortmund on his list of successes, but also received the highest consecration as a club coach by winning the Champions League with Liverpool FC. It was not for nothing that FIFA named him "World Coach 2019". In the Premier League, Klopp is currently more than around: 16 wins, one draw, that's the balance after 17 games. His first league title with Liverpool is in the air. The "Reds" lead the table with a comfortable ten point lead over Leicester City. And now the first triumph in club history beckons at a Club World Cup. "I would never do something like that in a team meeting," revealed Klopp in Doha. "You can't compete because you want to be a legend one day. You just have to win football games, do your best."
Intense job
The fact that he has always given everything as a coach in the last 18 years has not been without consequences. "Compared to then, I look different, massively different," said Klopp. "It shows that I'm doing a pretty intense job. But I love it and that's why I probably don't feel the intensity that much." And so Jürgen Klopp will be in the final of the Club World Cup on Saturday against the winner of the Copa Libertadores, CR Flamengo Rio de Janeiro from Brazil (Kick-off at 6.30 p.m. CET, from 6.15 p.m. on DW live ticker) Experience the way you know him: ambitious, focused and committed.
Jürgen Klopp: With heart and charisma

Folk saint

Jürgen Klopp quickly won the hearts of the fans: "We have to transform ourselves from doubters into believers," he urged on his first day in Liverpool in 2015. The "Believer" scarf is one of the most popular fan items on Anfield today. Likewise the "In Klopp we trust" shirt. Klopp is cult at the most iconic club in England. But he started far away from the big soccer temples.

Jürgen Klopp: With heart and charisma

Group picture with Seeler

Jürgen Klopp was born in Stuttgart in 1967 and grew up in the Black Forest. As a youth player of TuS Ergenzingen (above, 2nd from left), he was even allowed to stand next to HSV legend Uwe Seeler at a tournament in Hamburg in 1985. Nobody suspects that today people are keen to be able to take a selfie next to Klopp.

Jürgen Klopp: With heart and charisma

More like a soccer craftsman

Jürgen Klopp is not a ball magician in his active career. The striker, who will soon be retrained as a defender at the second division club FSV Mainz 05, stands for a rustic style. The fans like his honest way of playing football. He is the only Mainz player to have his own fan club, the "Kloppos".

Jürgen Klopp: With heart and charisma

Farewell to Mainz after 18 years

In 2001 Klopp moved seamlessly from the field to the coaching bench. After Mainz narrowly failed twice, the team under Klopp succeeded in the third attempt in 2004, the historic first ascent of the FSV into the Bundesliga. After relegation in 2007 and the narrowly missed promotion the following year, Klopp said goodbye to Mainz: after 18 years as a player and coach.

Jürgen Klopp: With heart and charisma

Award-winning TV expert

Klopp is a bundle of energy - and almost always has a loose saying on his lips. Combined with his football skills, this makes him the ideal TV expert. With ex-referee Urs Meier (left) and presenter Johannes B. Kerner (right), Klopp formed a well-rehearsed team at ZDF from 2005 to 2008. He later hired as an expert at RTL. He has received the German Television Award twice.

Jürgen Klopp: With heart and charisma

trendsetter

Jürgen Klopp is well received by TV viewers and football fans with his open and personable manner - and is also becoming a trendsetter. Even his fashionable glasses are perceived positively by the public. In 2008 the "Kuratorium Gutessehen" named Klopp "Eyeglass Wearer of the Year".

Jürgen Klopp: With heart and charisma

Making stars

In mid-2008, Klopp became the head coach of Borussia Dortmund. After the almost bankruptcy three years earlier, BVB is still in the process of restructuring its finances, it is not going well in terms of sport. Klopp promises to help the club "get back on track". His motto is: Don't buy stars, make them. So he puts the two 19-year-olds Mats Hummels and Neven Subotic in the defense center.

Jürgen Klopp: With heart and charisma

Three titles in two years

Klopp's recipe works, BVB's path leads upwards. In 2011 Dortmund won the championship trophy - and afterwards they celebrate so hard that the day after the coach has to hide his eyes behind sunglasses at the party with the fans on Borsigplatz. In 2012, BVB even made the double.

Jürgen Klopp: With heart and charisma

Occasional freaking out

With all the charm and wit - Klopp always goes through the nails on the sidelines - as here in 2010 during a dispute with the fourth official, referee Stefan Trautmann. "I was scared of myself, that was not okay," says Klopp after seeing this photo.

Jürgen Klopp: With heart and charisma

Happily married

Klopp has been married to his wife Ursula for the second time since 2005. Both have a son from a previous marriage. "I wouldn't be who I am if my wife didn't exist," Klopp once told the magazine "Gala": "I wouldn't be such a satisfied person." His "Ulla", according to Klopp, also likes his beard, another of his trademarks.

Jürgen Klopp: With heart and charisma

The end of the receding hairline

"We sat down with our sons and a friend who is a doctor and talked about what we would change in ourselves if we could," says Klopp afterwards. The BVB trainer does not like his receding hairline, so he has them reduced in size with a hair transplant. And he spoke openly about it in 2013: "I think the result was really cool, right?"

Jürgen Klopp: With heart and charisma

Bitter defeat at Wembley

In 2013 Klopp had the chance to win his first international title and then straight away in the Champions League - in the final at Wembley Stadium in London against German rivals FC Bayern. BVB loses 1: 2, Munich's winning goal by Arjen Robben falls in the penultimate minute. Klopp is called upon as a comforter.

Jürgen Klopp: With heart and charisma

Bye, BVB!

In mid-2014, BVB became runner-up for the second time in a row, after which the crisis began. After 18 matchdays, Dortmund is in last place in the table. Klopp looks exhausted. After all, he still leads the team in seventh place in the Europa League and the 2015 DFB Cup final, which BVB loses 3-1 to Wolfsburg. At this point, Klopp has already announced his departure from Dortmund.

Jürgen Klopp: With heart and charisma

"The Normal One"

Klopp's "sabbatical year" only lasts five months. In October 2015 he will be introduced as the new team manager of Liverpool FC. When asked about the saying "I'm the Special One" by the Portuguese star trainer Jose Mourinho, Klopp replies: "I was an average player, and in Mainz I started as an average coach. You could say: I'm the Normal One . "

Jürgen Klopp: With heart and charisma

Fan favorite

As in Mainz and Dortmund, the hearts of the fans fly to him in Liverpool. Klopp lets the "Reds" play attractive offensive football - and, like at BVB, forms new stars. This is how Mohamed "Mo" Salah matures under Klopp to become a world class player. The Egyptian broke the Premier League's goal record with 32 goals and was named "Player of the 2017/18 Season".

Jürgen Klopp: With heart and charisma

Past the cup

Again "only" the medal for second place. The 2018 Champions League final against Real Madrid is Klopp's third final with Liverpool, which he loses - like the two finals in 2016, in the League Cup and in the Europa League. "We weren't lucky," he says afterwards. "I'm not terribly well."

Jürgen Klopp: With heart and charisma

Champions League winner and world coach

And then Klopp grabbed the Champions League trophy. Liverpool won the "English final" in 2019 against Tottenham Hotspur 2-0. With the triumph in Madrid, the club ascends the European football throne, and its German coach finally defeated his "endgame curse". FIFA later named Klopp "World Coach of the Year".

Jürgen Klopp: With heart and charisma

Premier League triumphant

For the fans of the "Reds" it is the icing on the cake, the "Holy Grail", as a Liverpool newspaper writes: After 30 years of dry spell, Liverpool FC will again be English champions under Klopp in 2020 - seven match days before the end of the Premier League season. It is probably only a matter of time before they erect a monument to "the boss" Klopp on Anfield Road.

Author: Stefan Nestler