China's Debt Diplomacy - A Myth?
Sri Lanka could "see itself confronted with payment obligations that the projects financed (by China) no longer generate. With the forced assignment of the port of Hambantota built with Chinese funds for 99 years in China, this is a disaster in the meantime. "According to the NGO" Erlassjahr ", which campaigns for debt relief in emerging and developing countries, in June 2019.
In a July 2019 article by DW about Chinese investments in Bangladesh, it says: "Critics point to the experience of Sri Lanka. There, the government had to lease the port of Hambantota to China for 99 years after it was unable to service its loans."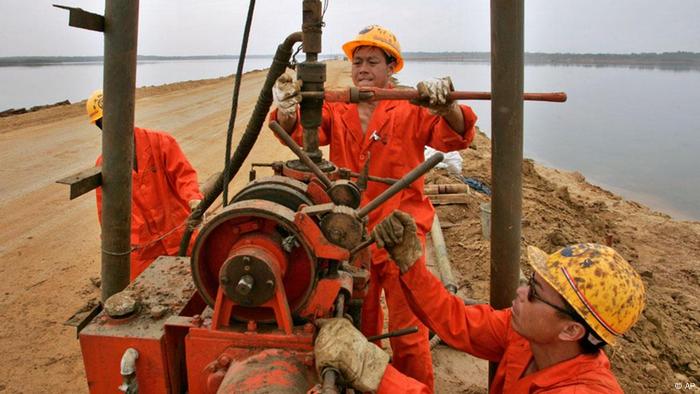 Chinese construction workers at Hambantota Port in Sri Lanka
"China's Debt Trap Diplomacy "
Two examples out of many from the press and civil society for the thesis of the Chinese "debt trap diplomacy", for which the port of Hambantota in Sri Lanka is repeatedly cited. The term "debt trap diplomacy" was coined in connection with the "Belt and Road" initiative (BRI) for the first time in 2017 by the Indian expert Brahma Chellaney of the Delhi-based "Center for Policy Research".
According to these and similar analyzes, Beijing is proceeding as follows: As part of the BRI, China grants loans to countries with weak economies, which they can then not service, making them economically and politically dependent on Beijing. Beijing is also using this lever to snag fixed assets in these countries in return for debt relief.
(Wrong) prime example of Hambantota in Sri Lanka
In the meantime, the thesis of the Chinese "debt trap diplomacy" has been questioned by various experts, in particular the Hambantota case is not at all an example. Recently presented in particularly great detail by political scientists Lee Jones from Queen Mary University in London and Shahar Hameiri from the University of Queensland.
In 2007 the green light was given for the port project promoted by the Sinhalese political dynasty Rajapaksa, primarily for reasons of election tactics. The desire for Chinese financing aroused strong interest from the state-owned company "China Harbor Engineering Group" (CHEG), among others. However, the port turned out to be a loss-making investment, the income hardly exceeding the maintenance costs. In addition, Sri Lanka got into a debt crisis in 2016.
The authors of the study emphasize, however, that the state's liabilities to China only amounted to nine percent of the total debt, and that the servicing of the loans of the Chinese Exim Bank in the amount of US $ 1.3 billion for the Hambantota project in the crisis year 2016 accounted for just 3.3 percent of total debt servicing. Sri Lanka was in a bind mainly because of its debts to Western donors. In this situation, Sri Lanka turned to Beijing for help, and so the deal came about that had nothing to do with blackmail by Beijing: the lease of the port of Hambantota for 99 years to the Chinese port operator China Merchants for a payment of just over a billion U.S. dollar. Incidentally, Sri Lanka has not been canceled from its debt to China.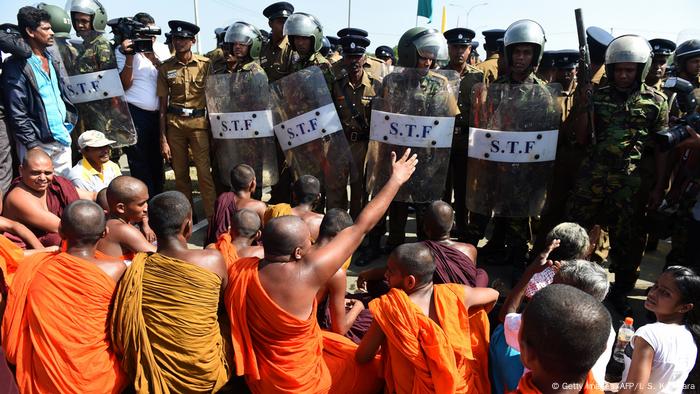 (Archive) Local residents in Hambantota protested against the Chinese construction project in 2017
Chinese strategy behind BRI a chimera?
For the authors of the study, the so-called Chinese "debt trap diplomacy" is a "myth", which they also demonstrate using the example of Malaysia. Controversial Chinese-funded projects such as the East Coast Rail Link, like the Hambantota Project, were based on "the efforts of recipient governments to attract Chinese investments and loans to advance their domestic policies. This is what it is doing about personal greed as well as social needs ("greed and need") ".
However, the authors go even further and deny that the BRI as a whole is a centrally thought-out and implemented strategy by China to achieve the status of a world power: "Political decision-makers and civil society organizations in the West and in the recipient countries should stop relying on the BRI respond as if it were a well-planned comprehensive strategy and recognize it for what it is: an often fragmented, chaotic, and poorly managed series of development projects. "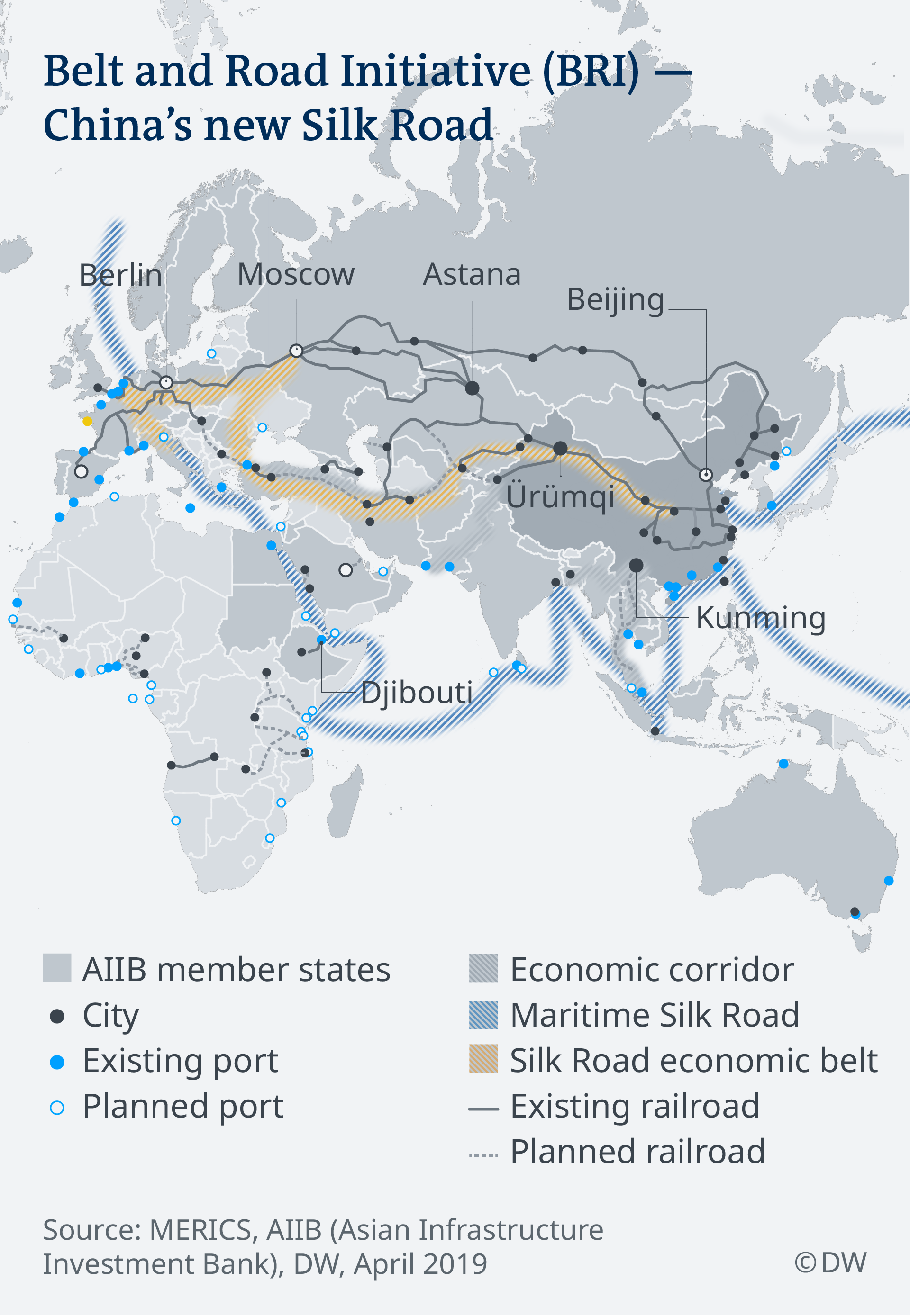 "Clear agenda of global influence"
The opposite view was taken by John Bolton, a former security advisor to the White House, who declared in December 2018 that the BRI was part of China's ultimate goal of world domination.
The German television journalist Thomas Reichard, who reports from China, recently stated to the Mercator Institute for China Studies (Merics) in a somewhat more differentiated manner, but in the same direction: "The new China under Xi Jinping is no longer one that is limited to itself, but that reaches out powerfully and makes its political and economic power tangible everywhere. It does not pursue a win-win policy, as the propaganda claims, but thinks in long trains and often ruthlessly tries to achieve its goals. "
It is true that the BRI has moved back a little on Beijing's political agenda since 2018, also due to economic problems in the recipient countries. But it remains "an essential part of the foreign policy agenda and an instrument for spreading Chinese influence in the world," says Reichard, who is an expert on China.
In the opinion of most experts, Xi Jinping's new Silk Road is in fact not a strategy planned and executed according to the general staff to gain global dominance. But the ability and willingness of China to financially meet the great development needs of many countries is almost automatically combined with the prevailing geopolitical conditions to form a strategic overall picture. However, this can have scratches.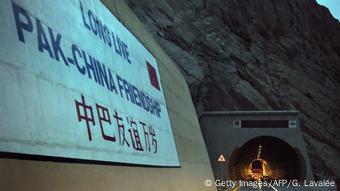 (Archive) Opening of a railway tunnel as part of BRI in Pakistan 2015
Examples of Pakistan ...
For example in Pakistan, where the success of the Sino-Pakistani Economic Corridor (CPEC), which is regarded as the BRI's flagship project, has not yet been determined. "According to the prevailing Chinese doctrine, state-sponsored investments in infrastructure generate economic growth, social stability and an improved security environment. As a counterbalance to India in South Asia and as a potential training place for Uyghurs from Xinjiang, stability (Pakistan) is a major concern for Beijing," writes Merics in a recent study. "For these reasons, the CPEC was seen as a necessary strategic decision."
At the same time, bureaucracy, local political resistance and Pakistan's chronic economic weakness threaten the project's schedule. In fact, thanks to CPEC, Pakistan should become a prosperous regional trade hub by 2030. But last year, Prime Minister Khan, like his predecessors, had to ask for financial aid from the International Monetary Fund. "The CPEC is an ambitious bet," writes Merics, "which is contributing to Pakistan's economic hardship." The corona pandemic threatens Pakistan with a recession, plus the immense costs for excess power plant capacities. Khan has already had to ask China for easier terms on electricity deals.
… and Bangladesh
Likewise in Bangladesh: There, too, China's massive financial commitment to the country holds "opportunities and risks", as Zahid Hussain from the World Bank office in Dhaka told DW. He "currently" does not see the risk of a debt trap. In Bangladesh, China has been a "quasi-superpower with deep pockets" for a decade, the former Bangladeshi diplomat Farooq Sobhan is quoted in a recent Merics report. Without Chinese investment, the country will not be able to close its massive infrastructure deficits. "Conventional sources of funding are not suitable for an emerging country like Bangladesh," Ahsan S. Mansur of the Policy Research Institute in Dhaka told DW.