Which Republican challenger for 2020 would you support
Campaign Funding: The Expensive Route to the White House
"There are two things that are important in politics: the first is money and the second I can't remember." This 1895 bon mot is attributed to Mark Hanna, Senator for Ohio. 125 years later, it still holds true in US politics.
As a political candidate, you can't get anywhere in the United States, especially the White House, without having millions and millions of dollars in your box. During the current election campaign for the presidency, candidates from all sides raised a record sum of 3.7 billion US dollars (the equivalent of 3.17 billion euros) and have already spent 3.5 billion of it, according to data from the Federal Electoral Commission (FEC). The FEC is an independent federal agency that regulates campaign funding.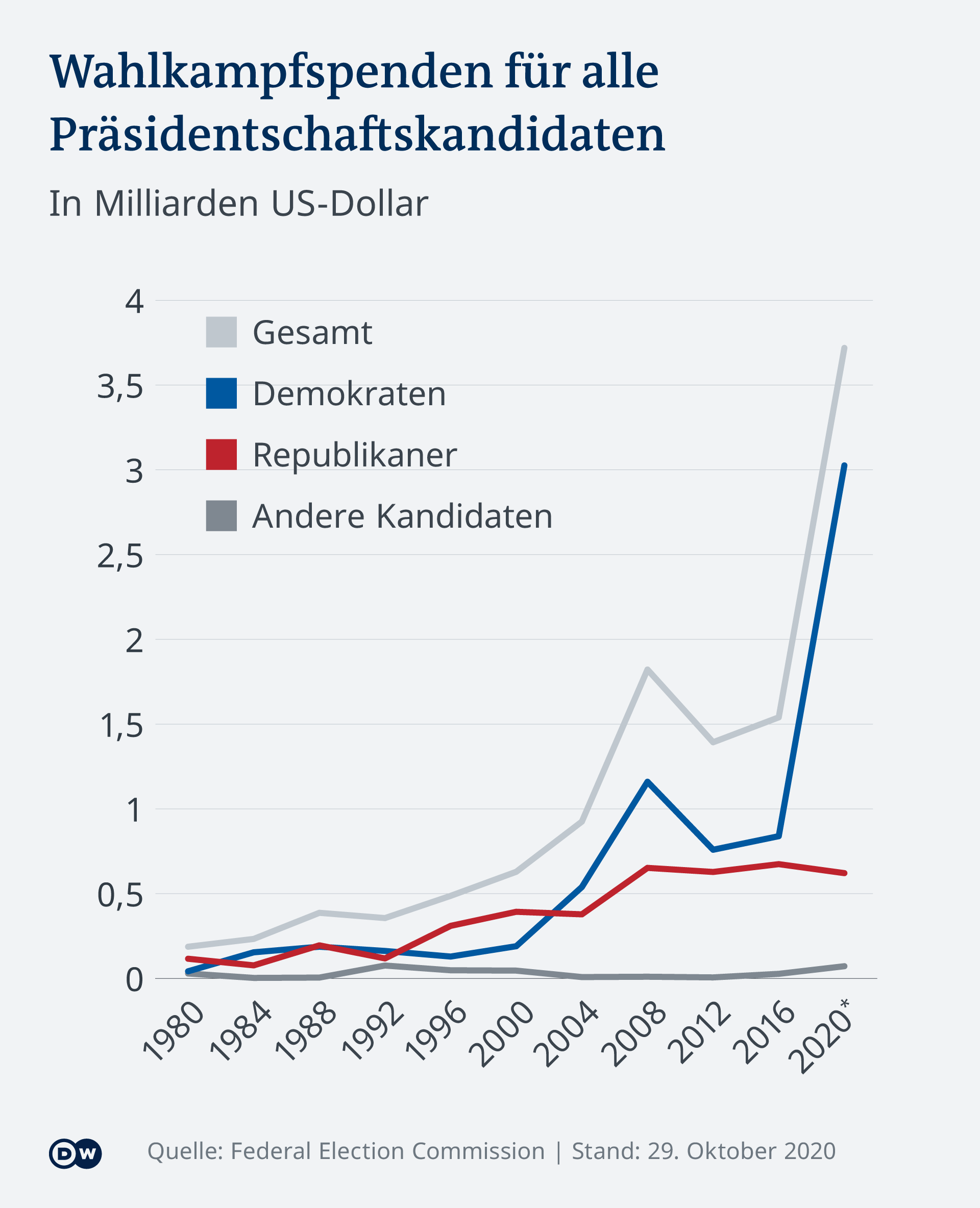 The 3.7 billion was not only collected from the campaigns of US President Donald Trump and former Vice President Joe Biden. "The sum includes everyone who was in the running for the presidency," said FEC Commissioner Ellen Weintraub in an online press conference. "There was a tough primary campaign, at least on the democratic side."
Many of the Democratic candidates such as Bernie Sanders, Elizabeth Warren and Biden's current vice-presidential candidate Kamala Harris stayed in the race for their party's nomination for a long time and had motivated their supporters for a long time. No wonder the donation volume has skyrocketed.
Lots of enthusiasm for small donations
To date, Biden has raised $ 952 million and Trump has raised $ 601 million as of October 29. Four years ago, Hillary Clinton received and spent $ 586 million at the end of her campaign.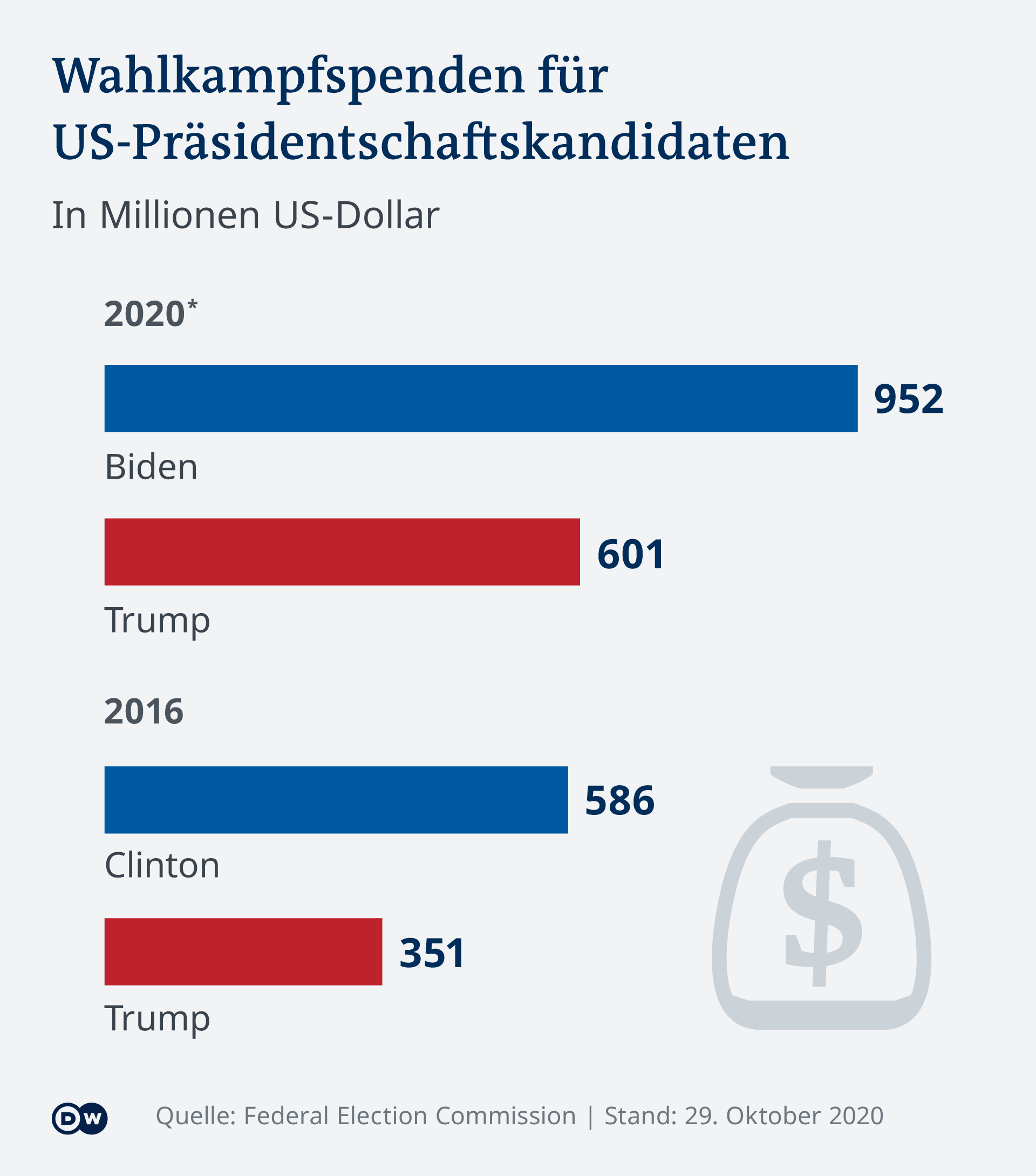 The numbers are especially astonishing when you consider the abundance of donors. The largest sum that an individual or organization can give directly to a presidential candidate is $ 2,800. Only Americans can do this; candidates are not allowed to accept money from foreign sources.
In this election, the small donations for all candidates play a special role. "It was really phenomenal," said Weintraub. "So many people who give small amounts of money often repeat because they are so excited about their candidate - or in other cases because they are not at all edified by the other candidates."
According to her, at the time of the press conference, more than $ 1.3 billion, or more than a third of the total, came from individual donations of no more than $ 200.
More time for politics
Record donations during a severe economic downturn seem contradicting at first glance. Many Americans have lost their jobs in the coronavirus pandemic, face eviction or struggling with increased health expenses. But none of this resulted in keeping their wallets closed.
FEC Commissioner Weintraub believes people have more time to focus on politics. "I wonder if the fact that there are a lot of people at home staring at their screens all day, getting upset about the amount of information about politics and finally thinking, 'I want to make a difference in this race, me will send my favorite candidate $ 25, "said Weintraub.
But there is another reason why the number of small donors has grown: It has never been easier to support a political campaign. People no longer have to write a check, find a stamp and mail it, it all happens online. "In the past, a lot of people probably thought, 'It's not worth the effort to write a check for three dollars,'" Weintraub said during the online event. "Now the campaigns are constantly sending e-mails, text messages and links to raise relatively small amounts of money. It is very easy to give them."
Long election campaign, huge country
But why is it so expensive to vote in the presidential election? First of all, it's a long way to get to the White House. There are no rules in the United States as to when potential candidates can start to solicit voters - unlike in other states like Germany, where parts of the campaign are limited to a short time before the election.
That said, a candidate going through the primary campaign starts his campaign at least a year and a half before election day - and it costs a lot to fund an 18-month or longer campaign.
And then there's the sheer size of the United States. Typically, candidates tour the 50 states, from town hall meetings in Maine to factory visits in Texas. The main candidates have an office in each state and have to pay the employees there.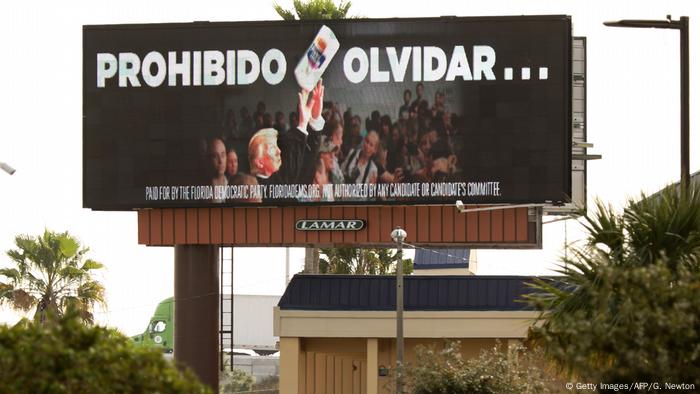 Election advertising in Spanish: With the billboard in Florida, the Democrats recalled Trump's condescending treatment of those affected by Hurricane Maria in Puerto Rico
Travel played a minor role during the pandemic, but TV spots were all the more important. In addition to nationwide advertising, candidates spend a lot of money on tailored ads to target specific constituencies in certain states.
No restriction for Super PACs
The electorate doesn't just watch TV spots paid for by the candidates' campaigns. Independent political action committees, so-called Super PACs, are groups that support a candidate or a political initiative by practically campaigning for them. And be it by producing television commercials.
There is one key difference to direct funding for a candidate: Super PACs are not subject to any restrictions on how much money they can receive from a single donor.
This is different with the campaigns of a candidate, in order to prevent a major donor from "buying" a candidate for himself and receiving benefits in the future. As the US Supreme Court has ruled, there is no such risk of corruption with Super PACs - no matter how high the donations are.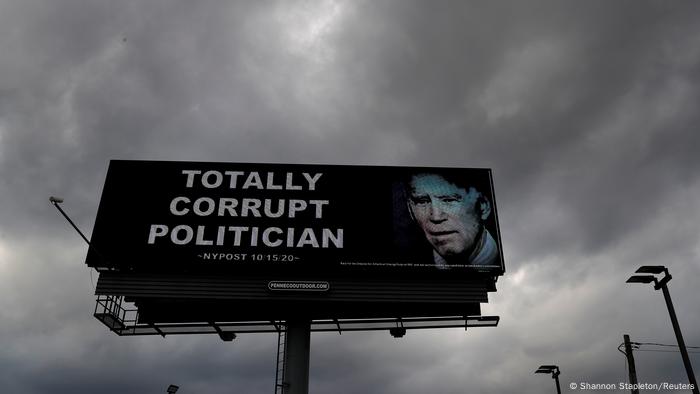 Republican supporters, here in Pennsylvania, can also make opponents bad
In addition, the Supreme Court has not set a limit on how much such an action committee can spend on the preferred candidate. Because that would restrict the freedom of expression, which is enshrined in the first amendment of the constitution. This right to spend on politics as a form of freedom of expression also applies not only to people, as the highest court ruled in a controversial case ten years ago.
"Super PACs can accept money from companies and labor organizations, which candidates and party committees are not allowed to do," says Weintraub of the federal electoral authority. "There are no restrictions on donations to Super PACS or their expenses. I'm just saying that I don't really agree with the line of the Supreme Court. But I'm not a Supreme Court judge. I'm just a simple election commissioner."
Adaptation: Uta Steinwehr