Spotify listens to your conversations
The audio giant

Spotify's battle for the podcast throne

Podcasts finally reached the mainstream in 2020, as the immense success of the coronavirus update with Christian Drosten shows. For a long time, it is not just the young people or those with an affinity for technology who regularly dive into the diverse world of conversations and stories: Millions of people in Germany have a podcatcher - an app for listening to podcasts - installed on their smartphone.

The podcast business attracts financially strong corporations. Amazon, Apple and Spotify are vying for supremacy over the young medium. But despite the rapidly growing listener numbers, no business model has yet emerged as the ultimate, no group dominates the market significantly. Still. There is a lot to be gained from this - the gap between monetization and engagement is huge.

Spotify has attracted particular attention as a pretender to the throne in recent years. The Swedish company has spent almost a billion dollars so far and has eaten a piece of the pie from production to marketing and advertising. Deals with exclusive, expensive podcasters: inside not included. Observers fear that Spotify could become the YouTube of podcasts. On its own platform, the company would then have control over advertising and monetization, recommendations and usage data. The course has been set for a quasi-monopoly.
Audience of millions, but no clear revenue model
Nineteen million people in Germany listen to podcasts. According to a study by ARD / ZDF, there are even a good eight million who listen weekly and regularly. The authors of the study see the offer as a mixed landscape. Today there are podcasts from public broadcasters, private individuals, board game fans, physicists, celebrities, publishers, comedians, scientists, banks, British royals and Michelle Obama. And of course an oversupply of true crime.
For many podcasters, however, it is still difficult to make money. Payment models are only cautiously establishing themselves in a freely accessible market. In the absence of reliable usage statistics, only large formats usually get profitable advertising contracts. Medium-sized podcasts, on the other hand, often rely on voluntary support from fans via platforms such as Steady or Patreon - with mixed success.
Automated advertising that is dynamically inserted into a podcast would be another option. Many platforms and corporations approach the problem in different ways. Spotify stands out because the streaming service wants to get involved in all of the areas mentioned.
Podcasts before they were cool
"In the past, people didn't really understand what I was doing when I said I was doing a podcast," says Frank Joung. He has been in business for a good four years with his podcast Halbe Katoffl, making him one of the older ones on the German scene. "When I tell people today that I'm doing a podcast, they seem to like it, but they tend to shrug their shoulders - like, 'Ah, you too?'".
Especially at the beginning, Joung had to do a lot of communication work to explain to potential listeners how and with which apps you can listen to podcasts at all. But his concept was well received. For Halbe Katoffl, Joung interviews Germans who, like him, have non-German roots. Casual, intimate and funny conversations are about everyday racism, stereotypes, integration, but also about passion, good food, family.
Nele Heise, freelance media scientist, has been watching podcasts in Germany closely for years: "What podcasting has created a focus for is the value of the conversation. Where else did you represent that in the media? "Listeners: According to Heise, listeners appreciate" that they can participate in formulations of thoughts and arguments ".
Especially content that would have made it less often through the acceptance of traditional news houses due to structural barriers is flourishing in the young podcast world. Marginalized journalists and creative people were able to try their hand at without having to worry about content changes or whitewashing. You can encounter these stories differently in podcasts. Heise: "You have to listen to them". Successful formats that show the world from a non-white perspective, such as the Kanackische Welle or Rice and Shine, could not be trusted by many traditional editorial offices to this day.
Blockbuster from the USA
While the success of podcasts first had to get around in Germany, they had long been the medium of the hour in the USA. With tens of millions of downloads, the American production Serial, which appeared in 2014, was for years the most successful podcast of all. Just in time for the tumultuous tenure of former President Donald Trump, the New York Times launched the most successful news podcast of all to date, The Daily, in 2017. And thus showed that up-to-date journalism also goes hand in hand with the format. (The story took a new turn last summer when the New York Times bought Serial Productions.)
But even though hundreds of millions of people around the world were already listening to podcasts on a regular basis, the platform market remained relatively uncontested. The largest transshipment point was and still is Apple with Apple Podcasts. For many iPhone users, the pre-installed app is the standard access for listening to podcasts. But regardless of how you listen to podcasts, the Apple Podcasts catalog is arguably the closest thing to a centralized podcast collection point. Because many big podcatchers like Pocket Casts and Overcast simply access the Apple Podcasts library for their own offer.
Apple itself has been supporting podcasts since 2005 - and incidentally, it was also the namesake for the word podcast, a suitcase word from "iPod" and "broadcast". But the group has neglected its app for a long time.
Since Apple was barely represented in the advertising business for a long time, there was no incentive to develop the podcast platform on a large scale. And this despite the fact that Apple has held a patent for the dynamic embedding of advertising since 2015, which could fundamentally change the podcast market. Apart from rudimentary charts, there were no recommendation mechanisms, for podcasters only very sparse statistics on usage behavior.
A cobbled together ecosystem
What distinguishes podcasts in their current state and at the same time makes them so vulnerable is the free infrastructure. The twenty year old RSS web feed standard is a shaky foundation. Basically all podcasts work like this: an audio file is uploaded to a server; the url to this file will be added to a podcast's RSS feed, each podcast of which has one; a podcatcher regularly searches all subscribed RSS feeds for new episodes.
That has clear advantages. For one, the infrastructure is a prime example of decentralization and interoperability. So there is no compulsion for listeners to use a certain app and for producers there is no compulsion to use a certain platform. On the other hand, no single company can determine the functionality or standards. Communication scientist John Sullivan even describes RSS in this context as an "anti-platform" that enables freedom, the podcast world as we know it, in the first place.
But the times when everyone: r hosts their own podcast on their own server are long gone. Not everyone has the technical resources to create their own RSS feed. With the growing popularity, a secondary economy quickly emerged: On the one hand, platforms that take over the hosting for a small fee and publish the RSS feeds. On the other hand, apps - podcatchers - that access the feeds and allow us all to listen. As long as everyone involved in the market adheres to this basic structure, it is called healthy competition.
German love for audio books brings Spotify to the scene
And for many podcast fans it could have gone on forever. In Apple you saw a platform provider that did not interfere much despite market dominance, while the podcast world could happily develop and try out without having to worry too much about market optimization. Smaller startups were either seen as harmless enrichments to diversity or failed - like the ambitious Luminary app, which wasted a phenomenal 160 million dollars.
Until a few years ago, Spotify, founded in Sweden in 2008, saw itself as a pure music streaming service. Over the past few years, Spotify has been able to steadily expand its own market share and, with currently more than 144 million paying users, has the music streaming market firmly under control - Apple Music has around 72 million users in comparison. As founder Daniel Ek tells in the Gimlet StartUp podcast, the growth of one country stood out in particular: Germany.
As it turned out, labels in Germany had not only made music but also audio books available on Spotify, which led to considerably longer periods of time on the platform. And, as we know from other streaming providers, the more time users spend on a platform, the stronger the bond. So Spotify started getting interested in podcasts.
Spotify started wave of investments
In a first step, Spotify made it possible to listen to podcasts in its app in 2015 and thus joined a large number of other podcatchers. Unlike other companies in the field, Spotify was not interested in just one aspect of the podcast ecosystem from the start.
Spotify started a first attempt in Germany. In 2016, Spotify recruited Jan Böhmermann and Olli Schulz. Her program Sanft & Sorgvollig was now called Fest & Flauschig and instead of on the Berlin station radioeins it would from now on run as a podcast on Spotify. Spurred on by its success, Spotify kept looking around. What if you could turn the millions of Spotify customers into podcast listeners?
With this goal in mind, Spotify continued to invest in exclusive podcasts, often carried by prominent hosts. By the beginning of 2019 at the latest, it became clear that Spotify was serious. Ek announced the acquisition of New York-based podcast production company Gimlet Media (reportedly for $ 200 million) and hosting platform Anchor ($ 140 million). Two other production companies, Parcast and The Ringer ($ 54 and 196 million), followed. All three podcast forges responded by forming unions. In early 2020, the ad tech company Megaphone was added ($ 235 million), which promises to dynamically embed advertising in podcasts.
In just a few years, Spotify went from a David to a vertically integrated goliath, who has a finger in everything from the first word spoken into the microphone to the ear of the listener. Spotify is still behind Apple Podcasts in usage figures, but is steadily gaining listeners. According to the German hosting platform Podigee, Spotify's market share of 34 percent at the end of 2019 was almost as high as that of Apple Podcasts at 36 percent.
It should be noted that statistics on podcast usage should always be viewed with caution. Because there are so many different platforms for podcasts, only random statements can be made about the apps actually used. They are based on the data of individual companies. There is also no industry-wide definition of what counts as "listening" to a podcast. Podcatchers usually download the entire audio file, which is why the success of podcasts is usually measured in downloads. However, it cannot be determined from this whether the podcasts are actually heard.
The lack of accurate tracking of listening behavior is a feature or a bug, depending on the perspective. On the one hand, this fact preserves the drive of passion that makes podcasts for many. The content cannot be tailored to detailed user behavior, and listening habits cannot be exploited. On the other hand, it is much more difficult to land advertising contracts if you cannot tell potential sponsors how often the advertising will actually be heard.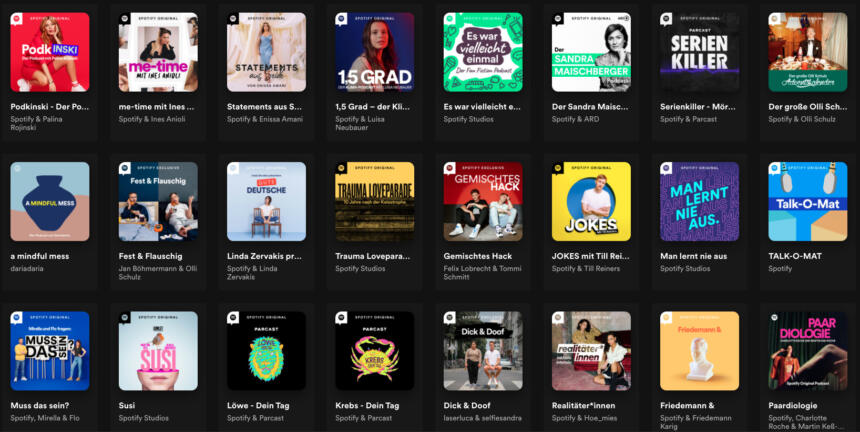 The fenced-in garden
One topic runs through the press releases that Spotify regularly makes available to investors: You see an incredible amount of potential in the podcast market. There is talk of "strategic acquisitions", they are very ambitious and want to become the market leader for podcasts. That is understandable, because you have to justify the expensive takeovers to investors. Although Spotify successfully went public in 2018 and made a profit for the first time with its paid subscriptions, donors expressed distrust in the huge investments in early 2021.
But if the bet works, the consequences could be serious. The battle plan could look something like this: With a convincing catalog of exclusive podcasts, listeners are brought to Spotify. Sufficient expertise has been bought with the tried and tested production companies, and the fan base is also used by celebrities. In Germany, Luisa Neubauer, Palina Rojinski, Felix Lobrecht, Sandra Maischberger and Charlotte Roche have joined Jan Böhmermann and Olli Schulz in recent years. If you have won their fans as podcast listeners, Spotify ideally becomes the standard portal for podcasts - a "lock-in" effect is created. The offer is rounded off by podcasts from the independent scene, which will continue to be offered in Spotify, as in all other podcatchers.
Smaller providers, on the other hand, cannot afford not to be represented on one of the largest platforms. Even if they may not even want Spotify to win paying subscribers through their podcast, because they don't even know that there are other podcatchers and that the podcasts are also available without advertising. In contrast to music, Spotify podcasters don't pay a cent if their products are heard on the platform.
Quantifying the quality
Once the listeners are on the platform, they have to be held. If Spotify succeeds in extending recommendation algorithms - as they already exist in music, for example with the "Discover Weekly" playlist - to podcasts, the company would have a lot of power over what we hear in one fell swoop.
We asked Spotify to comment on all of the above. However, via a PR company, the group refused to answer our questions. Like most technology companies, Spotify keeps a low profile when it comes to algorithms. A superficial analysis of the job offers on LinkedIn shows that they are not only looking for engineers for machine learning for their music and podcast recommendations, but also for an ethicist: for artificial intelligence - after all.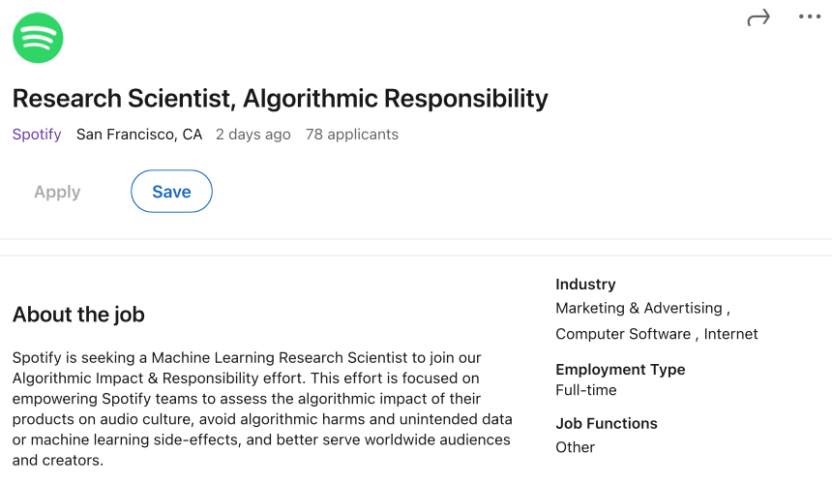 Should Spotify actually manage - and they are well on their way - to become a kind of YouTube for podcasting, there are other concerns about the influence of a single company on a cultural genre. Statutory examples abound, for example YouTube itself. The video platform has been criticized again and again in recent years for its recommendations to accelerate radicalization and promote addictive behavior.
But untamed algorithms do not have to promote extremism in order to have cultural and social effects. A few years ago, more and more well-known YouTubers noticed that their videos were seen more often if they were longer than ten minutes. Quite a few creatives then saw themselves forced to adapt their formats or to see their income, which was completely dependent on YouTube, dwindle. YouTubers: inside called it "the end of the golden era". Instead of experimental, small channels, more traditional, person-driven videos were found in the recommendations.
At the current time, the possible effects on the Podcast format by Spotify are purely speculative. However, it wouldn't be the first time for Spotify itself. For some time now, cultural critics have noticed that songs are getting shorter and shorter. Not only that, more and more songs start with the chorus or hook instead of the first verse. The goal is to make the beginning as fun as possible, because anyone who hears a song for over thirty seconds is counted as a whole stream.
Marketplace and supplier in one
Spotify not only presents and curates content, but also produces podcasts itself. This gives them a legitimate interest in recommending their own content over others. So far there is no evidence that this is happening, but also no guarantees from Spotify not to do it.
A conflict of interest arises in any case if Spotify competes with free content on its own platform. Frank Joung, the producer of Halbe Katoffl, can tell you a thing or two about it. The group triggered a small scandal in the summer of 2020 when it presented the podcast Gute Deutsche.In it, the Tagesschau spokeswoman Linda Zervakis talks to Germans about their migration background "in order to exchange personal experiences in a humorous, authentic way and to talk together about everyday life between cultures".
That sounds familiar because it is. You quickly noticed in the still quite manageable podcast scene that the concept is confusingly similar to Halbe Katoffl's. Including description texts, some of which are identical in words, and entertaining, playful segments at the end. But Spotify, as a large corporation, was able to quickly book prominent guests thanks to the corresponding attention.
"That bothered me," recalls Frank: "I calmed down by now, but I was angry at the time and thought that Spotify is not only a big player and has the money and the power celebrities to get, but they have already a monopoly as far as the display platform is concerned. And I was afraid that Halbe Katoffl would no longer take place there. "
At least, says Frank, one could have called beforehand and acknowledged the similarity. Because black podcasters: inside and podcasters: inside of color built the whole thing in the first place. "It's like building a mountain of sand. You shovel around there by yourself until someone comes and helps with the shoveling. The mountain is slowly getting bigger - and then Spotify comes with a giant excavator and dumps a huge amount of sand on top. I would then expect that at least one would say: 'We weren't alone.' "
New advertising technology helps with the castle building
Another strategy that Spotify is pursuing in expanding its platform dominance is that of dynamic advertising. The Anchor platform, which podcasters can use to host their productions free of charge, promises simple and uncomplicated monetization via advertising that is automatically selected and embedded in the podcast. This brings the streaming service one step closer to the YouTube model.
With the production software Soundtrap, also owned by Spotify, it should also be possible for creatives to produce podcasts directly on the platform. This would make it possible to handle the entire life cycle of a podcast through the same company.
According to recently published reports, the model does not yet work quite as expected by Spotify. Right now, the biggest advertiser on Anchor seems to be Spotify itself - with advertisements for Spotify. Still, for producers who put the hard work into their podcasts, this model could be a way to get paid for their time. Amazon also seems to be pursuing similar plans, as the acquisition of the advertising platform Wondery shows.
It's a double-edged sword. For all sorts of concerns, Spotify's investments in podcasting have a noticeable scattering effect. Without its sometimes penetrating marketing, many people might never have found their way into podcasting. Even Frank Joe's relationship with Spotify is ambivalent. Yes, the copy leaves a bad taste behind, but Halbe Katoffl also wins listeners through Spotify: inside. Spotify may want a very large piece of the pie, but it's also making the pie bigger.
The quantity makes the poison
There is evidence to suggest that Spotify is aware of its responsibility. The production houses that Spotify bought out seem loyal to the ethos of the free podcast world. For example, old Gimlet Media programs, including the immensely popular Reply All and Heavyweight programs, will still be available in free podcatchers. The producers guarantee that. New productions made under the direction of Spotify can also be heard outside of Spotify. The podcast Wind of Change, touted by many as the best podcast of 2020, was published exclusively on Spotify and traditionally also made available weekly via RSS feed.
This model of exclusive and freely accessible productions has not only paid off for Spotify. The Süddeutsche Zeitung, which, along with ZEIT Online, is one of the largest journalistic podcast producers in Germany with its wide range of podcasts, is doing well with such an offer. Up-to-date podcasts are available for everyone, while more complex productions are created in cooperation with the ProSiebenSat.1 subsidiary FYEO exclusively for the subscribers of both providers.
"I think there will always be free podcasts too," says Vinzent-Vitus Leitgeb, who has been in charge of the SZ's podcast department since last year. "Fortunately, because it gives many people access to a medium and can give many people a voice." It is true that the platforms would position themselves more and more, but he is less critical of it. Because ambitious, narrative projects cost a lot of money. Money that is otherwise simply out of reach in the free podcast scene. The SZ podcast German abysses on the NSU affair took eight months of research by Leitgeb himself, a producer was hired, there was a sound designer, and a dramaturge was even brought on board. Such productions would be impossible without private partnerships.
Many exclusive productions also remain true to the unwritten motto of promoting marginalized voices. Media scientist Nele Heise can see good things in this: "Audible was one of the first docking points for people who didn't have a job on the radio. And you have to give them credit for giving this audio producer a nudge. "It's similar with Spotify. According to a new study, popularization is even leading to more diversity among podcast makers.
Perhaps that's what we are experiencing with podcasts, just the natural evolution of a medium that is rapidly growing in popularity. The question is how should we deal with it? "The whole of the upturned, thoroughly commercially oriented market area - I think there will be a few more feathers plucked in the next few years," Heise expects. Now it is a matter of dealing critically with the medium, the reception must grow together with the medium, as it already happens in some places.
Purists may say that an audio file behind a paywall and without an RSS feed may not even bear the name podcast. Well worth considering. Because despite the huge fan base and the ever increasing investments, the medium is still in its infancy. Fuzzy definitions are widespread and listening habits change regularly.
It's a bit like a band that suddenly became famous. The sound changes, everything becomes more polished. Old fans soon romanticize the times when their idols were still playing in small bars with a poor sound system among the initiated. For the fans it is as if only they themselves could "really understand" the band. But the band is happy to no longer just have to sleep in the tour bus, they would like to enjoy the shared passion with the new fans. And small bands, innovative insider tips, there will always be.
Would you like more critical reporting?
Our work at netzpolitik.org is financed almost exclusively by voluntary donations from our readers. With an editorial staff of currently 15 people, this enables us to journalistically work on many important topics and debates in a digital society. With your support, we can clarify even more, conduct investigative research much more often, provide more background information - and defend even more fundamental digital rights!
You too can support our work now with yours Donation.
Clicking on the link loads our donation widget. In doing so, data is sent to our donation service provider twingle. You can find more information in our privacy policy.
About the author
Serafin thing
Serafin was an intern with us at the end of 2020 and has been producing our podcast once a month since then. He once studied literature and is just finishing his master's degree in cultural journalism at the Berlin University of the Arts. He also works as a programmer and on all kinds of podcasts. He's interested in almost everything anyway. But especially for the interfaces between culture, society and the digital. It can be reached encrypted and by email. More of him here or on Twitter.
Published 02/02/2021 at 7:30 AM