There is a good directory of wikis
The agony of wiki choice. Wikis for knowledge management in organizations
Figura, M .; Gross, D.
Abstract: On the basis of established basic requirements, the article presents common wiki solutions that are suitable for use in companies or other organizations. The wikis are compared and evaluated on the basis of their user-friendliness, suitability for research, the structuring and validation options for knowledge and their range of functions.
---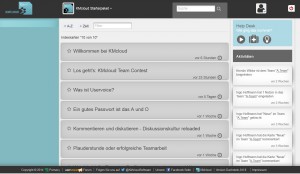 By the way: Are you still looking for the right software or advice for your knowledge management? From wikis for SharePoint to the individually configurable knowledge platform KMmaster for companies or cloud-based software for teamwork - with us you get a tailor-made solution. Ask us!
---
Updated version of June 13, 2013:
Figura, M .; Gross, D .: The agony of wiki choice. Wikis for knowledge management in organizations (You can request the PDF free of charge in the contact form at the end of this page)
---
1 Introduction
The online encyclopedia Wikipedia has achieved great success, mainly because it has made it possible to easily create your own articles and to comment on other articles or to revise them directly. All of this is based on the principle that all users can create and change content. The importance and size of Wikipedia today is the best evidence of the potential for wikis.
If introduced carefully, the wiki concept can also be used in a company context. Numerous tools are available. However, the wiki concept cannot be transferred one-to-one to an organization. The framework conditions must be adapted to the specific requirements of the respective company (such as corporate culture, organizational structure). There is no general solution available for this and a decision must be made depending on the application.
In the first step of this article, wikis are selected that are suitable for use in organizations (Chapter 2) and then presented in detail (Chapter 3). In the second step, the selected wikis are analyzed to determine how they have met the requirements of knowledge management in organizations (Chapter 4), and finally a conclusion is drawn (Chapter 5).
2. Selection of wikis for organizations
Wikis support numerous knowledge management facets and active communication between employees. The use of wiki software helps with the analysis, structuring, expansion and transfer of knowledge, experience, competencies and networks within the company. Wikis also support the process of informal learning. Knowledge transfer and acquisition take place in everyday work.
As a rule, a company wants to make the contributions in the wiki identifiable with regard to the author - i.e. the knowledge carrier. Roles and rights should also be handled individually, e.g. to protect sensitive customer knowledge. However, these properties are not exactly characteristic of the traditional wiki principles, according to which every user can edit all content anonymously.
A profitable use of wiki software does not have to be limited to special forms of organization and use cases. It is particularly useful in organizations that carry out knowledge-intensive work and where the majority of employees have access to a computer. The size of the company does not matter - wikis can be used in a small research department to support teamwork or across departments to document individual projects - it is important, however, to take the volume of knowledge into account. With complex knowledge bases, the use of either knowledge databases (e.g. KMmaster) or collaboration software (e.g. Sharepoint, IBM Connections), as an alternative to wikis, can prove itself. The active use of wikis tends to work better with flat hierarchies, manageable knowledge and in a corporate culture that is as open as possible1.
In general, the motivation of employees to use the wiki tools successfully plays a significant role. A study by BBC Future Media has shown that the behavior of user participation in communities has changed significantly2. The 1/9/90 rule drawn up in 2006 by Jakob Nielsen - one of the leading personalities in the field of user-friendliness - is, according to the study, outdated. The 1/9/90 rule says that content is created in a community by only 1% of users. 9% participate sporadically, configure or comment on the content. The majority, 90% of the users, are so-called "lurkers", i.e. they read and watch without actively participating3. A different picture emerges for 2012 from the study carried out by BBC Future Media in Great Britain. The proportion of users who participate intensively has risen to 17%. In addition to these 17%, there is a further 60% who also actively participate, albeit less intensively. The authors of the study cite "easy participation" as the reason for the increased participation. "Easy participation" means that activities that in 2006 required a lot of effort have become easier and commonplace today and are taken for granted. However, 23% of users remain passive. The difference here, however, is that "remaining passive" is an active decision by the user and does not result from an uncertainty with the medium4. For the introduction of wikis in the company, this means that the motivation of employees to use the wiki must go beyond user training. Rather, the active and continuous participation of employees in the wiki community must also be supported, for example through incentive systems.
Many wiki tools are available for use in companies. With the help of the comparison portal WikiMatrix, the properties of almost all Wiki software solutions can be compared. The existing solutions range from simple products that concentrate on the most important features to powerful software systems that contain many functions and thus go far beyond the original wiki core functions.
This article presents the most important requirements that influence the choice of suitable wiki software for knowledge management in an organization and compares current wiki solutions with company-relevant factors:
The wiki software should be a recognized and well-known solution that is mature and established on the market (a. Development Status Mature). This ensures the long-term availability and further development of the wiki. An indication of the size is also provided by the active community behind the software.
Commercial support - The number of companies that offer commercial support (b. Commercial support) is also decisive for the availability, further development of the wiki and especially for the ability to resolve problems quickly.
security - Company wikis are usually only accessible to employees. Some areas may also need to be restricted. The users must log in and have certain permissions in order to be able to work with the wiki. Wikis in corporate use, like other corporate software, must meet the security requirements of the organization. Serve as security features c. Page permissions (e.g. the possibility to block individual pages) or d. Access control lists (assignment of different rights to users and groups per page).
Adaptability - The wiki should be adaptable to the specific requirements of the organization. Similar menu navigation and interaction mechanisms are just as important for a company as the adaptation of the design, i.e. the possibility of visually adapting the layout of the wiki to the corporate design. This is particularly important for the identification and acceptance of the system by the employees. This also includes the expansion options through e. Plugins. In large organizations, plugins are often only used in small numbers because they have to be checked carefully before use. This is often refused due to time constraints. However, as a form of modularization, you only have the functions in the system that are really needed.
language - Since this study focuses on the use of wikis in companies in the German-speaking market, both the user interface and support should be offered in German.
Operating system - The wiki should not require any special system requirements for smooth use. This means that the wiki is functional in all common operating systems.
Integration possibility - The wiki should enable integration with other existing programs. A h. LDAP authentication (use of credentials stored throughout the organization) for user login and an i. Active Directory connection (directory service from Microsoft Windows Server) are indicators here. It is important that users can log into the wiki with their familiar email or intranet access data. At the same time, the administration effort is reduced. Office and Microsoft SharePoint integration can also be important.
search - With the search functionality, it is crucial for the user to be able to search through attachments or attached files in addition to the text search. This is the only way to have full access to all relevant information.
Export - In order to be able to pass on created or compiled content, the wiki should support export in other formats (e.g. PDF, HTML, XML). This makes it possible to provide content in a user-friendly manner to customers or partners who do not have direct access to the company's internal wiki.
Ease of use / usability - Ease of use improves entry and reduces training and introductory effort. Factors that support user friendliness include m. WYSIWYG editors ("What you see is what you get", corresponds to processing in common office programs) and n. Page templates (pre-structuring of content, similar to templates in office programs).
Other important criteria that determine the selection of a suitable wiki also include technical aspects, especially with regard to the software platform. Depending on the size of the organization, certain requirements must be met. For example, for large companies it can be decisive whether it is possible to connect existing database systems to the wiki.
If you choose these criteria as the minimum requirements for wikis in organizational use, only seven of the hundreds of existing wikis can meet these basic requirements (selection based on the WikiMatrix database). The following table shows these wikis together with the criteria.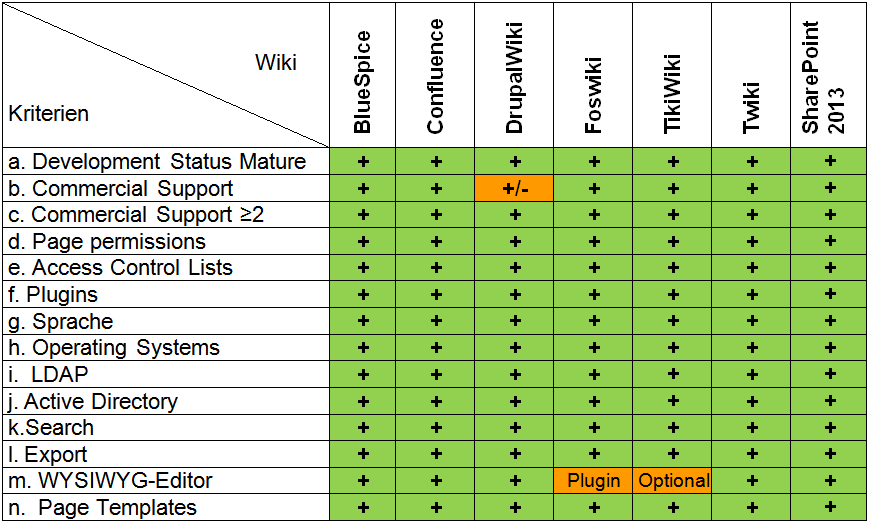 Wikis for Organizations - Wikis & Criteria
The wiki systems SamePage, Mindtouch, PhpWiki and JSPWiki, which were not included in the table due to the weaker commercial support, language and search functionality, are still under observation.
3. Presentation of selected wikis
This chapter introduces the wikis selected for organizational use.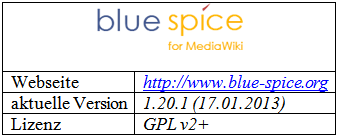 BlueSpice for MediaWiki is a free open source company wiki that can be used independently as well as enhancing an existing MediaWiki. In contrast to MediaWiki, which was developed for the requirements of the online encyclopedia Wikipedia5, BlueSpice offers increased security through access control lists and the administration of role management systems and access restrictions (central authentication, user management, namespace management, group management, rights management, personal settings, etc.). BlueSpice is suitable as an entry-level solution for companies, especially for documentation and communication within closed user groups. MediaWiki strengths, such as high user-friendliness, discussion pages and good functionality for keywords (tagging), remain.

Confluence is certainly the most popular commercial company wiki on the market. It not only concentrates on the core functions, but offers many other functionalities that are important in the corporate context. One of the greatest strengths is the WYSIWYG editor (rich text editor), the functionality of which is very similar to Microsoft Word. Another important argument in favor of choosing Confluence is that it is very widespread and is already used in many companies. Confluence offers excellent user-friendliness and enables content to be created quickly. It also supports the hierarchical order and structuring of pages with the help of areas, sub-areas, keywords and links. A sophisticated search engine that enables all content (including attachments) to be searched is part of the software. A big advantage is that Confluence enables integration with SharePoint and editing of content directly in Microsoft Office. The Office Connector supports the import of Office documents directly into Confluence. Rights management can also be done in great detail. In addition, Confluence has a powerful workflow plug-in that supports the approval and publication of content. This is an important point in content quality assurance. Confluence also offers the option to manage attachments. It supports versioning of the attachments. With the "Blueprints" release, the Confluence Wiki offers revised and simplified applications for creating and managing meeting minutes, organizing file lists, documents and images, and handling requirements6. In contrast to other wikis analyzed in this article, Confluence incurs license costs (see Wikis, which are open source and are therefore under the General Public License GPL). Confluence is used by more than 10,700 companies in 108 countries.7

Drupal is a free content management system whose application platform Drupal Wiki was specially developed for use in companies. A database is required to store content. Drupal Wiki supports easy content creation. Many good discussion options such as blogs, forums and discussion pages are integrated. It also offers the possibility to systematize the content by assigning it to certain categories and tags. Drupal Wiki has a sophisticated rights management system. The search functionality is expanded and also enables attachments to be searched. Further functionalities include a document management system and the project rooms. A workflow system is available as a plug-in to ensure the approval of documents. Drupal Wiki is based on a powerful Enterprise 2.0 architecture and enables integration with e.g. SAP, Magento or SharePoint. The number of Drupal installations to date is around 300,0008.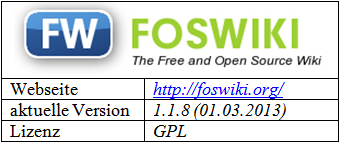 Foswiki emerged from the spin-off of the TWiki community and a further development of the TWiki platform. A great strength of Foswiki and TWiki is the simple programming of applications using metadata. Numerous plugins enable the functionalities of Foswiki to be expanded. Foswiki is compatible with TWiki and has similar functionalities.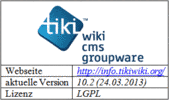 TikiWiki CMS Groupware - TikiWiki is a powerful open source content management system that contains a wiki with many other functions, such as blogs and workflow management. The wiki supports detailed access restrictions and role management. The wiki, which is mainly suitable for small companies9, is accused of being confusing because of the many functions10.
TWiki was designed as a collaboration platform and is suitable for the structured filing of information. TWiki was mainly developed in Perl. TWiki does not need a database to store content. All content is saved directly to files, but this can also lead to security problems. It is mainly used in intranets by medium-sized and large companies.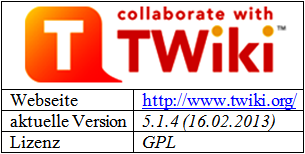 TWiki offers simple user rights management, which also allows the simple integration of external users, and enables the versioning of stored content. The contents are systematized in webs, topics and attachments. A web is a group of topics that can contain any number of topics. Topics can be subordinated or superordinated in a structured manner. A topic consists of the text, revision data, metadata (such as author, last change) and any attachments. Graphics, pictures and tables can also be inserted into the text. TWiki has a well-known brand and has already been used by many companies.After the split of the community and the creation of Foswiki, the TWiki community has become smaller and less active. The further development is therefore also limited11. A WYSIWYG editor and a rights and role management system are installed as standard. A special feature of TWiki: Variables and forms can be processed using the Wiki syntax. To date, Twiki has been downloaded by over 50,000 small and medium-sized businesses from 100 countries12.
Microsoft SharePoint 2013 Strictly speaking, it is not an independent wiki, but an enterprise collaboration platform with the option of setting up wikis (see Chapter 6: Alternatives to wikis). As a result, it is not advisable to set up SharePoint just because of the wiki functionality13. In a SharePoint environment, wikis can be set up for individual teams as well as for the entire company. The rights system can be configured in a very differentiated way14. It is thus possible to assign authorizations to individual users, but also to entire user groups. A restriction for individual pages within a wiki is also possible. In addition to the evaluation of individual wiki pages, keywording (tagging) across the entire SharePoint environment is also possible. Ultimately, a wiki in SharePoint is nothing more than a website with libraries, ready-made authorizations and simplified linking of websites within a library. SharePoint 2013 was released in July 2012.

The most important developments include the fundamental change in the architecture (open web standards), extended functions via apps, better support for mobile devices, modern forms of collaboration via social media and the improved search functionality in web content management15. There are also improvements in terms of security (eDiscovery and identity management16). SharePoint 2013 is therefore particularly suitable for web content management, collaborations, document management and business applications (structured processes, workflows, etc.)17.
4. Wikis & Knowledge Management: Criteria and Analysis
In this chapter, the presented wikis are analyzed in more detail with regard to their knowledge management support. For this purpose, four different areas are considered:
Knowledge management for everyone - ease of use
Structured knowledge base - rights and roles
Easy access to knowledge - research options
Quality assurance - possibility to assess contributions
Criteria are presented for each area and the selected wikis are checked against these criteria. In some cases, the criteria already mentioned from the basic requirements are taken up, as these are qualitatively different in the individual systems. For this purpose, a rating between very good (thumbs up), good (thumbs on the side) and weak (thumbs down) is used for each wiki and feature or information about the presence is available√) not available (x) and optional / plugin (O) made.
4.1. Knowledge management for everyone - ease of use
The criteria summarized here include the creation of content, the comment and discussion functions, as well as the export and import functions in other document formats.
Easily create content - All analyzed wikis have comparable functionalities that guarantee user friendliness. Features such as the WYSIWYG editor (at least as a plug-in) and options for integrating or attaching various files are now standard in corporate wikis. Confluence is particularly easy to use. It enables the editing of wikis directly in Microsoft Office. It also offers the option of integrating files using drag & drop.
Comments and discussion - Wikis offer various solutions in this area, from blog-like comments, through blogs and forums, to discussion pages. Confluence, Drupal Wiki and TikiWiki offer simple but sophisticated comment functions. In contrast, Foswiki only offers the comment feature as a plugin. For BlueSpice MediaWiki, talk pages are characteristic for each article.
Export and import function - The PDF export is offered by all wikis at least in the form of a plugin. The Office Connector Confluence offers the best import and export functions. Drupal supports Office import only optionally.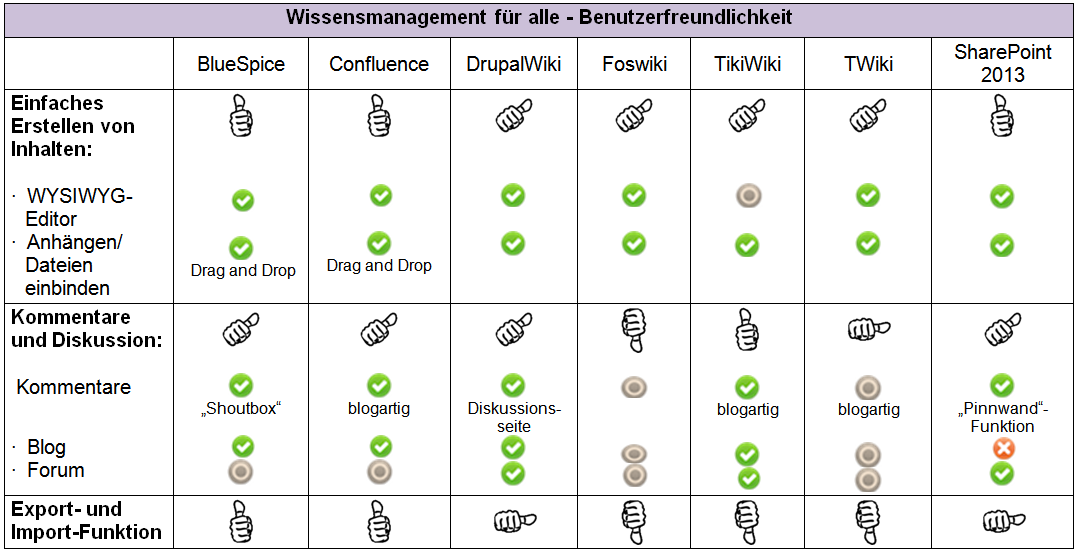 If an organization is particularly interested in winning as many of its employees as possible as users for the new Wiki, Confluence, SharePoint and DrupalWiki are suitable as user-friendly and community-oriented platforms. TWiki and Foswiki are only really used once the user has familiarized himself with it.
4.2. Structured knowledge base - rights and roles
A common prejudice with regard to wikis is that all content is created in a mess there. At this point we summarize functions that support structured filing and thus simplify later access.
Creation of wiki areas - Wiki areas can be created in practically every wiki. It's just a question of how laborious it is. The creation of areas corresponds to a classification into different "rooms", which can usually be subdivided by pages or lower levels of structure. Wiki areas are well supported by Confluence. This is also possible in BlueSpice for MediaWiki.
Rights allocation system - Almost all of the analyzed wikis allow rights for individual groups and users to be defined in great detail. In contrast to MediaWiki, the enterprise variant BlueSpice has access control lists.
classification - Categorization is a strength of MediaWiki or BlueSpice, it offers more freedom in the assignment of categories than e.g. Confluence. Confluence only supports tags, not fixed categories.
Linking - Each wiki offers the possibility to link the contents with one another. The differences lie in the effort involved in integrating the links. Some wikis (such as Confluence, Drupal) offer a sophisticated linking system that supports automatic linking and the automatic updating of references when renaming or moving content.

Structuring is almost always an important issue in organizations, because employees leave the department, tasks are outsourced or long product life cycles require old knowledge to be reanimated. For this reason, a wiki suitable for knowledge management should be able to provide its content with a system. Almost all of our knowledge management wikis do very well here. Drupal Wiki in particular is well prepared for this; probably not least because it was developed out of the content management system family. But here, too, it is again true that the requirements are decisive for the choice.
4.3. Easy access to knowledge - research options
In addition to access to content using the classifications just presented, the search functionality and the notification functionality are examined at this point. This means that push and pull mechanisms are taken into account.
Search functionality - In addition to full-text searches, all wikis relevant to this study also allow attachments or attached files to be searched.
Permanent access - Despite a growing smartphone market, most wikis are not yet designed to be accessible on the go. However, this could well be an important requirement in a mobile organization. TikiWiki and SharePoint top the list here.
Email notification and RSS feeds enable monitoring of changes in important content.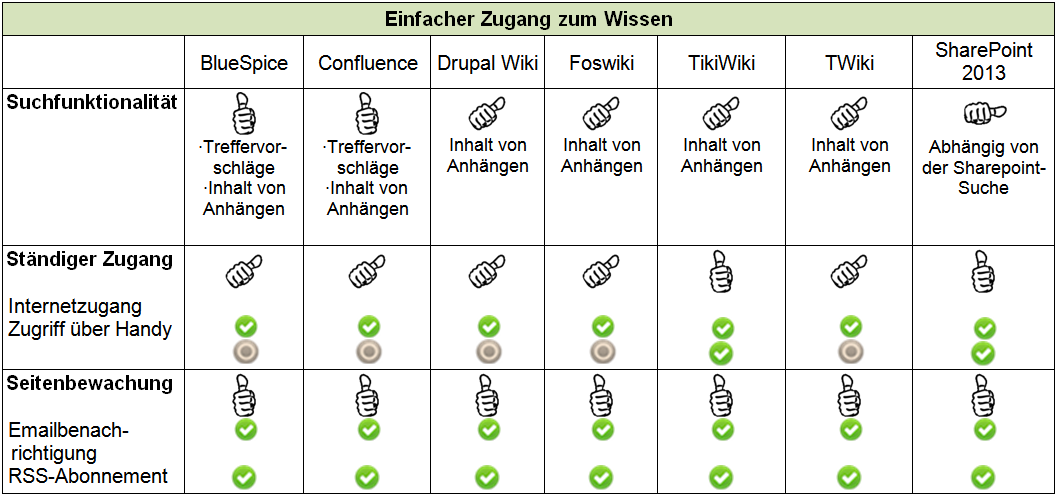 Search is standard in our knowledge management wikis. With increasingly large amounts of data accumulating in organizations, however, the subtleties become more and more relevant for decision-making.
4.4. Quality assurance - possibility to assess contributions
For many knowledge management applications, the question of the quality of the stored content arises: Who created it? Are the authors experts? Has the content been supplemented by others? Was there quality assurance, e.g. through an expert review? Various functions are available in wikis for all of these questions.
statistics - All wikis show the last changes in content. Information about the number of hits per page and user activity is also available for assessing content.
Information about authors enable the identification of who is behind certain content: e.g. the department, the experiences and projects in which the author is active.
Workflow wikisthat are designed for use in companies now offer workflow support. Documents can be assigned to a workflow so that a review must take place before they are released. Foswiki and TWiki offer a simpler workflow system. Above all, Confluence, SharePoint and Drupal offer a powerful solution. The enterprise variant BlueSpice for MediaWiki also offers a professional workflow tool.

Since in the corporate context usually less than 10,000 users validate the content together, ensuring quality is particularly crucial when choosing the platform. Unfortunately, statistics still seem to be a general weak point in wikis. Since knowledge management is often exposed to pressure to justify itself, it is all the more important to be able to present successes in a visible manner.
5. Conclusion
Wikipedia cannot be copied into an organization at will. The Internet and its users are subject to different framework conditions than the intranet and its users. That is why the introduction of a wiki is not a self-evident success story, but requires a precise analysis of the requirements and selection of the software. As soon as the wiki is not only intended as a playground for hobby bloggers, but should also actively contribute to knowledge management, an organization must pay attention to the following: The wiki is a recognized and well-known solution, has a sufficient security concept, flexibility and adaptability are ensured, the required interfaces are available and in its usability it suits the profile of the user. If these basic needs are met, the number of wiki systems has already been reduced considerably. When it comes to the criteria of knowledge management for everyone / user friendliness, structured knowledge base, easy access to knowledge / research options and quality assurance / assessment options for contributions, the individual requirements can vary considerably. For a company whose employees have little basic technical knowledge, ease of use will be particularly important. A small agency with great Web 2.0 know-how will place more emphasis on expandability and additional plugins.
However, what both organizations have to bring with them for the wiki to do its job well in the field of knowledge management is the active and motivated participation of all employees. Employees have to be convinced that the wiki is not just another tool, but software that makes their work much easier by simplifying access to company knowledge. Wikis only work when they are filled with life, otherwise there is a risk that the knowledge gathered there is incomplete and quickly out of date. The employees should be motivated to exchange their knowledge with their colleagues and to show appreciation. The use of wikis should be seen as an integral part of everyday work in an organization. This also includes the tasks that should be taken into account when introducing the wiki software.
There are many different wikis available on the market that are suitable for knowledge management use. The selection depends on the requirements of the respective organization. The best knowledge management wiki out there, it's just different for everyone.
6. Alternatives to wikis
The use of wiki systems is primarily considered for smaller organizations or organizational units, since the knowledge base remains manageable and the entry barriers are relatively low due to a quick introduction. However, if the knowledge base exceeds a certain volume, it is worth considering investing in the introduction of either structured knowledge databases (e.g. KMmaster) or collaboration software or groupware systems (e.g. Sharepoint, IBM Connections). Knowledge databases enable better control over the creation and reuse of knowledge, thus increasing the quality of the knowledge being managed. Solutions such as the "KMmaster" from Pumacy Technologies AG offer various features such as structured templates for articles, predefined work processes, defined role concepts and complex classification hierarchies that enable a stronger structure and classification of knowledge. In addition, knowledge databases and collaboration software usually offer better workflow support and, thanks to the possibility of connecting additional data sources and creating ontology-based keyword indexes, a higher search quality compared to wikis. In return, both alternatives require greater adjustment d. H. Templates for knowledge articles, roles and workflows must be defined in advance. This means more effort at the beginning, but the above-mentioned aspects make it easier for the subsequent knowledge management. The features of collaboration software focus more on communication and the exchange of knowledge in distributed teams.
____________
F. Miller, T. Pfeiffer How to Bring a Wiki to Life, Knowledge Management. The magazine for executives, issue 1/2009
http://www.bbc.co.uk/blogs/bbcinternet/bbc_online_briefing_spring_201_1.html, found on May 17, 2013
http://www.nngroup.com/articles/participation-inequality/, found on May 17, 2013
http://www.bbc.co.uk/blogs/bbcinternet/bbc_online_briefing_spring_201_1.html, found on May 17, 2013
See http://en.wikipedia.org/wiki/MediaWiki found on April 15, 2013
https://confluence.atlassian.com/display/DOC/Confluence+5.1+Release+Notes found on April 15, 2013
http://www.atlassian.com/company/customers.jps found on April 15, 2013
http://drupal-wiki.com/de/die_loesung#business-ready found on 04/18/2013
http://www.produktmanager-blog.de/tikiwiki-die-vollstaendige-enterprise-2-0-loesung-fuer-kleinere-unternehmen/ found on April 16, 2013
See http://de.wikibooks.org/wiki/Wikis_in_Organisations:_Software found on April 15, 2013
http://de.wikipedia.org/wiki/TWiki found on April 16, 2013
http://twiki.org/ found on April 15, 2013
http://windowsdeveloper.de/artikel/SharePoint-2010-Nicht-wie-sondern-wann%2521-003081.html found on April 16, 2013
http://technet.microsoft.com/de-de/library/cc721640.aspx found on 04/16/2013
http://www.computerwoche.de/a/wie-gut-ist-microsoft-sharepoint-2013,2520930,4 found on 04/16/2013
http://technet.microsoft.com/de-de/sharepoint/fp142374.aspx found on April 16, 2013
http://www.computerwoche.de/a/wie-gut-ist-microsoft-sharepoint-2013,2520930,4
Bibliography
Featured wiki websites for organizations
http://www.wikimatrix.org
http://www.atlassian.com/software/confluence/
http://www.blue-spice.org/
http://drupal-wiki.com/de/drupal-wiki-enterprise-wiki
http://foswiki.org/
http://info.tiki.org/tiki-index.php
http://twiki.org/
http://sharepoint.microsoft.com/de-de/Seiten/default.aspx
http://www.kmmaster.de
literature
F. Adler, I. Frost, D.Gross: The agony of wiki choice - Wikis for knowledge management in organizations, 2011
J. Moskaliuk The Wiki Principle, in: Moskaliuk, Johannes Construction and communication of knowledge with wikis. Theory and practice. Boizenburg 2008, pp. 17-27.
MediaWiki & Co - final report Conception and prototypical realization of a wiki as a knowledge management system for ELIXIA Austria GmbH Club Vienna, S. Anderlik, P. Kirchmeier, C. Sternbauer.
M. Seibert, Firmenwikis: Decision-making criteria and important questions when evaluating wiki software, May 19, 2010 blog.seibert-media.net/2010/05/19/firmenwikis-entscheidungslösungen-und-wichtige-fragen-bei-der- evaluation-of-wiki-software /
A. Hingst, Wikibility - Factors for a successful introduction of wikis as a knowledge management tool in companies, Master's thesis at the University of Duisburg-Essen, January 23, 2009.
Frank S. Miller, T. Pfeiffer, How to Bring a Wiki to Life, in: Knowledge Management. The magazine for executives. Issue 1/2009.
More material
A. Dirsch-Weigand, R. Heigl, The Wiki as Intranet 2.0 .: Experience report from the Darmstadt Chamber of Commerce and Industry, December 2009.
R. Heigl, The freedom to learn. SharePoint, wikis, knowledge management. March 2009.
Wiki in companies. Seibert Media GmbH brochure
T. Teufer knowledge management and the wiki concept, diploma thesis at the Institute for Information Management, Vienna University of Economics and Business
Frost, I. & Rohs M. "Sustainability and informal learning in the online encyclopedia Wikipedia" In: Informal learning and education for sustainable development, edited by Brodowski, M .; Devers-Kanoglu; Overwien, B .; Rohs, M .; Salinger, S. & Walser M. Barbara Budrich Opladen & Farmington Hills, MI. 2009.
M.Seibert Wikipedia in companies: Yes, but not with MediaWiki, feedproxy.google.com/~r/seibert-media/Weblog/~3/We6thVGaGmw/
Thomas Joos: Microsoft SharePoint 2010, Addison-Wesley Verlag Munich, 2011
Dirk Langenberg, Comparison of Knowledge Management Solutions for SMEs and Virtual Organizations, 2013
Licensed under the Creative Commons Version 3.0 Attribution-ShareAlike, 04/25/2013