What goes well with Pierogi
The nice thing about pelmeni is that you can eat them with any side dish and sauce. It always tastes good! Since tastes vary and there are so many options, many ask us which sauce or side dish to choose. So here are some suggestions for an enjoyable plate with delicious pelmeni.
Basically, if possible, immediately after cooking: A bit of butter. Gives the whole thing a little shine and, above all, ensures that the pelmeni don't stick together. You want to enjoy each one individually!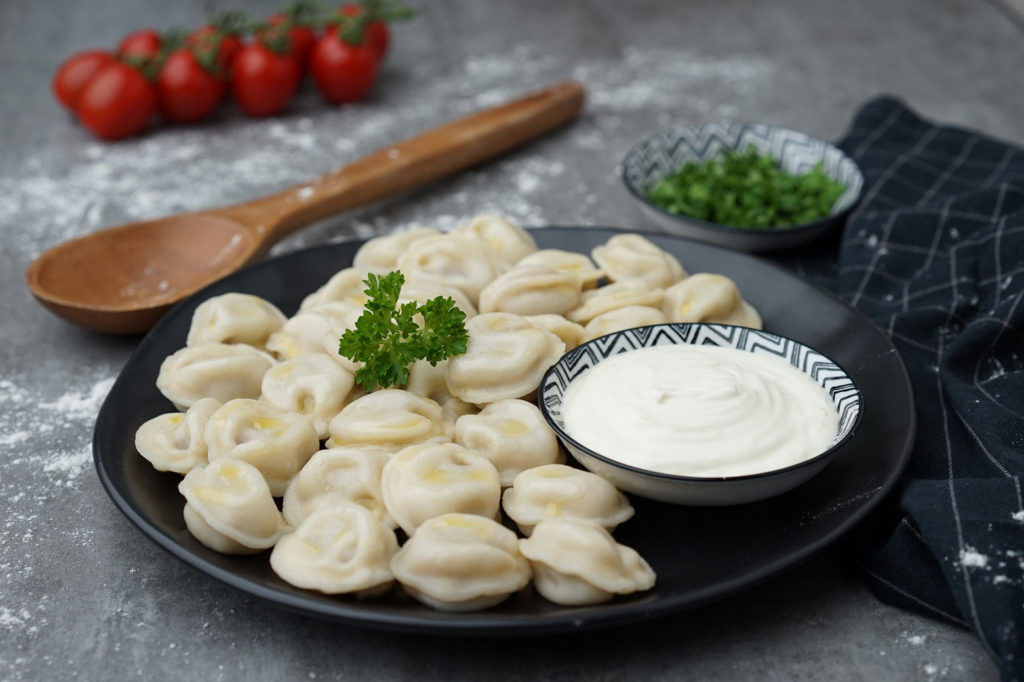 Everyone has their own favorites, here are a few sauce suggestions that are guaranteed to get you right. The first three variants are absolute classics.
1. sour cream:
The classic at all. You are welcome to add a generous spoon of sour cream so that you can dip the pelmeni in the sour cream and enjoy it piece by piece. Of course, Creme Fraiche is also possible!
2. Tomato sauce:
If you want it to be quick, ketchup is added. Tastes damn good and is probably the easiest and fastest variant. For even more enjoyment, you can freshen up the tomato sauce yourself and give it a little spice and spiciness, which the Russians know as "Adschika".
3. Vinegar:
For someone who doesn't know it, absolutely unfamiliar at the introduction. With the Russians, on the other hand, this variant is very popular with a little vinegar. Often with a little melted butter in vinegar and in a small bowl next to the plate. Gives everything a delicious taste and should definitely be tried out.
4. Mayonnaise:
Not for everyone, but many love the pelmeni with mayo. Just try it out, you can't go wrong here.
5. Chilli sauce:
That goes very well with Pelmeni! Fiery delicious chilli sauce!
Whatever you serve and eat pelmeni with: you will love the delicious dumplings. What is your favorite sauce with pelmeni?