The quality of life in Nepal is improving
Community forests, Nepal's recipe for biodiversity and quality of life
Nepal's landscape is anything but monotonous. Their wealth of variety begins with wide grasslands, extends over warm, humid rainforests and pine forests up to snow-covered peaks. The small, mountainous country is disproportionately rich in species. Some of the poorest people in the world also live here.

The survival of most of them depends heavily on the plant and animal species in Nepal doing reasonably well. But where climate change, deforestation and the exploitation of the existing, valuable resources are the order of the day, it becomes difficult. This connection is clear to environmental protection organizations; in addition to preserving the biodiversity of the country, they also try to guarantee a certain standard of living for the population.

"If you really want to win the fight for nature conservation, you have to reduce poverty," says Oliver Langrand. He is the managing director of the Critical Ecosystem Partnership Fund (CEPF), a US environmental protection group. "If you don't do that, the trend we are currently experiencing will not be reversed. Nature will continue to disappear and poverty will increase. You will notice that both are closely linked."

Even if poverty in Nepal has decreased slightly in recent years, the country still ranks at the bottom of most development rankings. It is currently in the United Nations Human Development Index on the #link: http://hdr.undp.org/en/content/human-development-index-hdi: 145. of 187 places #. Nepal also has one of the lowest gross domestic products (GDP) per capita in the world.

Almost half of the country is covered with forest and bushland. For this reason alone, large parts of the rural population are dependent on the forest and the species that can be found in it. They secure their lives through the products of the forest and earn their money with it. Agriculture, fishing and forestry still employ almost 80 percent of the population. According to official information in 2014, they #link: http: //www.cbd.int/doc/world/np/np-nr-05-en.pdf: provided for 35 percent of the gross domestic product #.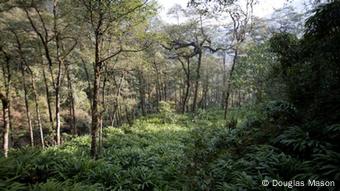 Community forests are a source of food, fuel and medicine.
In the past, Nepal's government has worked to bring nature and society into harmony. The population was rewarded for protecting their land. However, environmentalists say enough has not been done.

Nepal paves the way for community forest use

When the government tried to bring community-managed forests under state care in the late 1950s, it failed miserably. One reason for this was the ignoring of the traditional, established systems of use of the indigenous population. Contrary to the forecast, more and more trees were felled as a result of the nationalization. As a result, there was massive soil degradation and, as a consequence, devastating flooding. This emerges from research by Ghan Shyam Pandey, who works for the Global Alliance of Community Forestry (GACF), a Nepalese network that represents forest societies.

It was not until the 1970s that the state leadership recognized the important role that the population played in successful environmental protection. As a consequence, the country began to take the first steps towards joint, community-based forest management. So-called municipal forest user groups were founded with the aim of monitoring land use and using resources sustainably.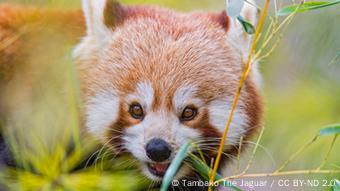 The bamboo forests in Nepal are also home to the endangered red panda.
"They realized that you cannot protect the forest and manage it at the same time without the local people," says Pandey. "Our forests and agriculture are closely interlinked. This interaction has noticeably increased the quality of life. The community forest supplies firewood, construction timber and other products that are very useful to the local people."

In the meantime, 35 percent of the almost 28 million Nepalese are organized in forest user groups. They manage a total of around two million hectares of forest.

Community work for forest protection

Each group develops its own plan of how they want to develop and use their part of the forest sustainably. Decisions about which products are removed, such as timber or medicinal plants, are made by the community. They are often based on traditions and handed-down knowledge and are a best practice principle, explains Panday.

The decline in deforestation in the country shows that this change of course is working. #link: http: //www.rightsandresources.org/news/thomson-reuters-foundation-an-opportunity-to-get-conservation-right/: The forests have even been enlarged in some areas. # And poaching has also decreased now that the local communities have more influence. March 2014 marked a milestone for Nepal, because no rhino had been poached for a year. Just as few elephants or tigers.

Even if, as the Center for International Forestry Research (CIFOR) notes, there has not yet been a comprehensive study of the impact of communal forests on poverty #link: http://www.cifor.org/publications/pdf_files/OccPapers/OP- 81.pdf: there are # in the corresponding region, as they make up a significant part of people's livelihood. Be it through the provision of resources and through the products obtained. And eco-tourism has also made a contribution to people's livelihoods. Between 2009 and 2012 the income from this increased by 91 percent. According to the government, the locals receive #link: http: //www.cbd.int/doc/world/np/np-nr-05-en.pdf: between 30 to 50 percent of this income #.

Protection solutions in remote communities

The managing director of the CEPF, Nina Marshall, has visited projects in some of the most remote regions of Nepal, for example in the Kangchenjunga region on the border with China. She says that the introduction of organic farming, but also new and efficient stoves that are manufactured and also sold by the locals, have helped a lot in stabilizing environmental protection, income and health.

"We support the Ethnobotanical Society in Nepal, as an example. They taught 714 families how to cultivate medicinal and aromatic plants," says Marshall. "These families now have better access to medicines that they would otherwise have had to buy. Now they can sell them themselves."

However, seclusion can be a problem for some groups. "The area is poor and there is little development," says Marshall. "When I visited our projects, there were no roads there." The fact that there are no roads is currently still a problem for eco-tourism. It also prevents the locals from being able to sell their goods quickly and easily in markets.

There is still a lot to be done here to better market local products, adds Pandey from the GACF. "When communities make local specialties or products, they have a harder time asserting themselves in regional or larger markets, where larger companies dominate," he says.

Make the most of common forestry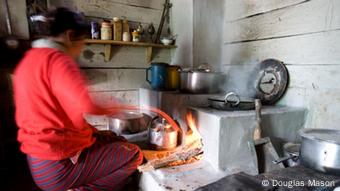 Improved stoves use less firewood and evacuate smoke better.
Still, many communities are still not using the full potential of their forests to generate secure incomes. Concrete measures to secure the generated income are still missing, is in #link: http://www.landcoalition.org/sites/default/files/publication/1266/Lokniti_Land_Grab_Mar2012.pdf: a study by the GACF #. She added that even if the forest area had increased, "the livelihood of the poor and disadvantaged did not improve as expected".

Pandey, who has been working in Nepal's forests for more than 20 years, calls for the community forest concept to be expanded to include state-managed forests. They are still marked by mismanagement and high deforestation rates. Today #link: http://www.rightsandresources.org/news/campaign-carves-way-forward-for-nepals-indigenous-communities-forest-rights/: 58 percent of the government's forests # belong.

Many communities have managed their forests for generations, and they are closely tied to culture and identity, says Pandey. He also counts himself to the administrators of the forests. "I'm actually a farmer," he says. "I come from the river basin. And forests have always been part of my life."