How do you measure your skills
There were almost 2.9 million students in Germany in the 2019/2020 winter semester. The trend has been increasing for 15 years. Why? Because studying gives you specialist knowledge. And because certificates and titles are more important than real skills in Germany, it is said again and again. On the other hand, you've probably heard that applicants should definitely have a lot of soft skills in order to find a good job.
What is behind this term, what the "soft skills" really are and how you can improve yours - you will learn that and more in this guide.
What are Soft skills?
Soft skills are personal characteristics of a person, which difficult to measure to let. That is why they are called "soft factors". They cover a broad spectrum, including social skills. The opposite of soft skills are hard skills.
What are hard skills?
The English term Hard skill is translated with specialist knowledge, expertise or expertise. That means, it is about "hard", that is measurable and clearly traceable skills. You acquire these through your school education, training or studies. In the end, you will have knowledge and skills that you can apply in your profession.
Professional skills: examples
Hard skills are, for example, knowledge of special programs and tools, such as certain CRM tools for a job in sales. Or manual skills in order to be able to practice the profession of carpenter. And an English teacher should be able to read, write and convey the English language perfectly. The best way to prove these skills is with good grades and certificates in this subject.
Soft Skills and Hard Skills: The Differences
Hard skills are the in all professions Minimum requirements. For example, you have to meet certain technical requirements for a sales job, including as a career changer. If you do not offer these tough skills at all or inadequately, you have no chance with an application.
It looks different with the Soft skills out. These are traits and abilities that include your personality, Your Inclinations and interests, Your Behavior and dealing with colleagues determine. These so-called Key competencies can be used in private life and in various professions. You do not need any training, studies or certificates.
You can train and improve your soft skills (more on this below in the text), but many soft skills are based on your previous life - and thus on experience, on communication as well as the Exchange with other people. They are not tangible, difficult or even impossible to measure, subjective and not tied to any profession.
Soft Skills: List of soft factors
When you read job postings, you will mostly see the same soft skills that companies want their applicants to have. This could give the impression that there are only a handful of soft skills. That is not true, however. There are over 100 soft factors that can be important in professional life.
To better distinguish the soft skills, scientists have divided them into the following categories:
Personal skills

social skills

communicative skills

methodological skills
Note: Often the communicative soft skills are integrated into the social skills. So there are only three instead of four categories.
Here is a shortened list of how different soft skills are categorized:
Personal skills

Self-confidence

Determination

Willingness to learn

engagement

Self reflection

analytical thinking

Social skills

Ability to work in a team

empathy

Knowledge of human nature

Leadership

Ability to employ

Critical ability

Communication skills

Communication skills

Interviewing

Networking

Persuasiveness

Assertiveness

nonverbal communication

Methodological skills

flexibility

Organizational skills

Resilience

strategic approach

Time management

Delegate

Frustration tolerance
Many competencies go flowing from one category to the next. In addition, various skills and properties can be combined. This includes, for example, emotional intelligence, which consists of empathy, motivation, self-discipline and self-awareness, among other things.
Soft skills: Examples of important business skills
Companies often challenge these soft factors:
Resilience
If a company of yours Resilience As a soft skill, you should immediately realize that this job can be very stressful. You often have to reckon with obstacles and setbacks, but also work flexibly. Only if you are resilient can you face the great challenges, channel them and master them.
Delegate
There is always a lot to do in many professions. When your files are piling up and your workspace is full of sticky notes, you need to act. Delegate Your work on colleagues. Those who delegate correctly create space for the really important things. For example, a supervisor is not allowed to take care of odds and ends - he has employees for that.
Assertiveness
Do you delegate part of your work? Do you also say no to new tasks? Do you always make important decisions promptly? Then you own Assertiveness. You have to prove this in all positions and hierarchical levels. As a supervisor, it is your duty to set a course and stick to it - even when there is resistance. And as an employee, you should make sure that not too many tasks end up on your desk.
engagement
Pick up the ball and act: This is what many companies want their employees to do. Those who are committed act intrinsically (internally) motivated and want to change something. Your superiors know that they don't have to "chew on" every task for you, but that you take care of your tasks independently. And that you do this without warning. Ideally means engagement also, that you complete your tasks not only 80%, but 120%.
flexibility
This is understood to mean various things, such as the time flexibility. Here a company expects that you have no problem with overtime or weekend work.
Flexibility can also mean "open-minded". That means you adapt quickly to new challenges and situations. This means that you are open to new solutions and approaches. In this way, flexibility has a similar meaning to adaptability.
Communication skills
Communication skills must not be equated one to one with the verb "communicative". A communicative person is a person who talks a lot without concentrating on the essentials. Communication skills are all about expressing yourself clearly.
You should also be able to understand what your colleagues say, for example to convert them into tasks. In addition, the ability to communicate is understood to mean using the right means and channels of communication (e.g. e-mails or chat tools) to draw attention to important things.
Critical ability
No one is perfect. And in professional life there are many reasons why things go wrong or go differently than planned. In such cases, there may be negative feedback towards you.
The Critical ability is to calmly listen to the competence, assessments or performance assessments, to accept them and to improve the points of criticism raised. In addition, the ability to criticize - especially in the case of destructive criticism - includes objectively explaining the points raised without becoming hurtful or personal.
Ability to work in a team
This competence can be read in most job postings. Ability to work in a team basically says that you mustn't be a loner and a lone fighter. Instead, it is important to master the tasks together with one or more teams. To do this, you should have additional social and communication skills. This includes empathy and communication skills.
Why are soft skills so important in general?
Humans are neither robots nor machines. Daily exchange with other people is part of an increasing number of professions. In order for this to work without problems, you have to have a certain Soft skills score.
In addition, many job profiles have changed, making the requirements more complicated and complex. For example, a programmer can no longer work in a dark room. He is an important part of agile teams that constantly exchange ideas in order to manage large software and digital projects.
And in some professions, social exchange has always been the be-all and end-all, for example in sales. Despite digitization, you still have to deal with flesh-and-blood customers every day.
Soft skills are therefore key competencies that important for your job and your future career are. As an anti-social, selfish, silent, unstructured and unstable loner you will have an extremely difficult time in business. It doesn't matter how strong your hard skills are. In addition to your professional competence, you always have to bring many soft factors with you so that you fit into a company.
Soft factors: which ones do we need nowadays?
In order for you as an applicant to be able to convince in your cover letter and in a personal interview, you must Fulfill the hard and soft skills of the job advertisement as far as possible.
According to the business network LinkedIn, these are the most popular soft factors that German companies would like to see in 2020:
Teamwork and adaptability

good time management

creativity

high emotional intelligence
As various surveys show, there are changes and shifts here. For example, a survey by Bitkom Research GmbH on behalf of LinkedIn found that
Companies expect more team and employee management as well as intercultural and cross-functional skills in the future

Skills such as creativity, presentation and decision-making skills could be less in demand by 2027 than at the time of the survey in 2017.
What counts in sales jobs?
Of course, these statements should be treated with caution. Every industry and every employer has in the end whole individual requirements for each individual position.
For example, sales employees have to be resilient, flexible, empathetic and have good communication skills. In addition, they should appear confident, competent, trustworthy and serious. In order to achieve leads and deals, you should be strong in negotiations, goal-oriented and steadfast, among other things.
Not every property is required if you are a developer or graphic artist. Other skills count here.
How to convince with your soft skills in an application
When you write a cover letter, you should carefully identify the hard and soft skills required for the job posting. But do not rattle off clumsily that you meet the desired requirements. A sentence like "I am able to work in a team, have strong communication skills, empathic, inquisitive, resilient, determined, persuasive and have a lot of creativity" is a no-go.
Instead, you should
to Focus on three to five soft skills,

Your strongest skills call and

Your Prove soft skills.
The proof of your soft skills could look like this:
If Ability to work in a team you write: "For two years I have been training the D-youth of the local football club. What I particularly like about it is that I can encourage and challenge young talent. "

Applies creativity as one of the key competencies, a possible formulation would be: "I like to take photos in my free time. My pictures have already won numerous prizes, including that of a well-known photo magazine. "

It says in a job posting that you resilient have to be? You can prove it like this, for example: "I have been working on a voluntary basis at the hospice for six years, especially in the evening and night shifts. The job of accompanying sick people in the last days of their lives prepared me for the numerous difficult challenges of private and professional life. "
Training soft skills: how does it work?
In contrast to the hard skills, the soft skills measured only to a limited extent or not at all become. In addition, many skills are not taught to you either in an apprenticeship or at a university. Rather, you acquire your soft skills continually in your life. The years as a child and teenager are particularly formative.
This is how you can improve your social, communication and methodological skills as well as your personal skills:
Take one As-is analysis ahead by yourself and your soft skills reflect for yourself. What are your strengths and what are your weaknesses? Which skills are important for your private and professional life?

You sit down aims. Which skills are important to you? Which of them do you want to learn or improve and why? Which goals or wishes should be fulfilled (new job, new partner, more friends, social status, etc.)? And how do you do it Success can be measured to some extent?

Think of one strategy: With which activities can you achieve your goals? How is it possible to achieve competence A, B and C? Do you have to attend seminars for this? Or should you have a coach at your side?

Soft skills cannot be learned overnight. For some, it will take you many months or years. That is why it is said: stay tuned.

How well are you doing? Did you achieve your goals? What is still a problem? Do one regularly Self reflection by.
Keep in mind: Training the soft skills is not a sprint, but a marathon. Your Personality development will never end because you and your life are constantly changing.
Tip: Some soft skills can be learned almost like hard skills, for example methodological skills such as time management. To do this, work through and apply general time management tips. Supplement them with optimized working methods in order to gradually become better.
Soft skills in international comparison
If you have a Position abroad you should be aware that there may be a whole place different soft skills than in Germany are in demand. An analysis by Joblift shows that independence, diligence and social skills are at the top of the list in France, while adaptability, communication skills and the ability to work in a team are most important in the Netherlands.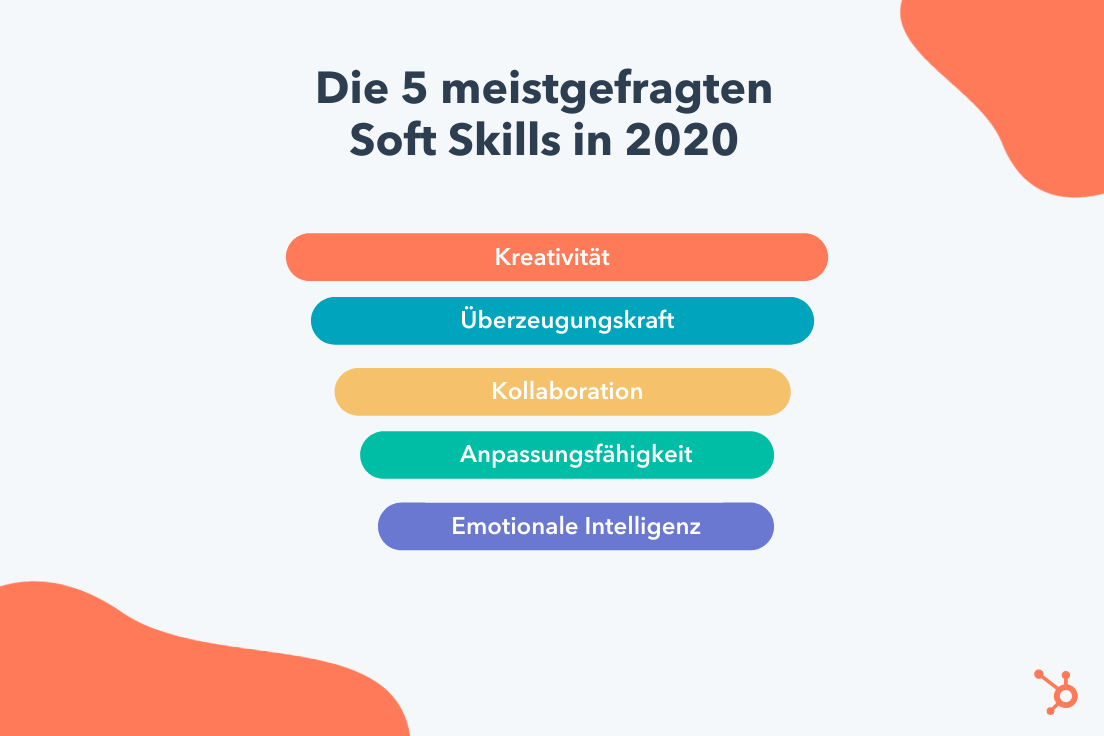 Image: HubSpot
It is interesting that in some countries the individual way of working is more important than the behavior towards the respective company or the interpersonal exchange. That means in the end that not only in other countries strange customs, but also different ways of working prevalence. A factor that should not be underestimated if you want to change your career and are therefore flirting with abroad.
Soft skills are an important part of the whole
Of course, every qualification, every certificate and every demonstrable hard skill is important. This is unlikely to change much, because every job requires specialist knowledge and special skills. But we are all more than just a collection of know-how. We are people who interact with other people - different amounts depending on our profession.
Nevertheless, everyone must have certain soft skills and that is a good thing. On the one hand for companies that are looking for the perfect match. And for you, if you want a job with which you are satisfied at all levels: When, in addition to the professional exchange, you also have colleagues with whom you can work in a friendly and peaceful manner. Or if you have business partners with whom you not only do good business, but can also meet for an after-work drink.
Cover picture: Author / Getty Images
Originally published October 9, 2020, updated October 09, 2020
Recommend this article: