Is Van Gogh an impressionist or an expressionist
Van Gogh can be seen as an important pioneer of later Expressionism, in which not only the external shape of an appearance plays a role, but above all the inner "state of mind" of a motif. He wants a couple's love through them "The marriage of two complementary colors, through their mixing and their contrasts, through the mysterious vibration of approaching tones"(Quote from Van Gogh). The motifs in his pictures are partly symbolic: the sunset symbolizes a person's passion, the stars stand for hope.


In the period that followed, tensions arose between van Gogh and Gauguin. It became apparent that Gauguin wanted to leave again. In panic about being alone again, Vincent lost his nerve one evening and cut off his right ear in a fit of mental derangement. While Vincent was in the hospital, Gauguin left secretly. Vincent was resigned to the failure of this artistic community, and the first signs of delusions befell him. Again he spent a few weeks in the hospital. Vincent gradually began - partly voluntarily, partly involuntarily - to withdraw from society and devoted himself more and more to painting.

Vincent van Gogh: Night cafe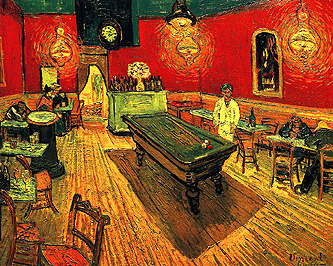 Made in Arles in 1888, oil on canvas, 72 × 92 cm
The picture Night cafe should correspond to the state of his soul at the time. It shows a room with a pool table in the center. The people shown, the billiard player, two drunks and a couple in love do not seem happy despite the bright colors, but rather depressed. The bright red of the wall as well as the yellow of the lamps and the floor create a complementary contrast to the green on the ceiling and on the pool table. Van Gogh tried to use red and green to express human emotions and qualities.

"The room is blood red and dull yellow, in the center a green pool table, four lemon yellow lamps with orange and green light beams (...) I tried to express the idea that the café is a place where you ruin yourself, go crazy or commit a crime can. " (Quote Vincent)