Snopes will answer your questions precisely
US Department job posting: Journalist Supervisor Wanted
The US Department of Homeland Security is looking for a company to evaluate journalists, bloggers and influencers.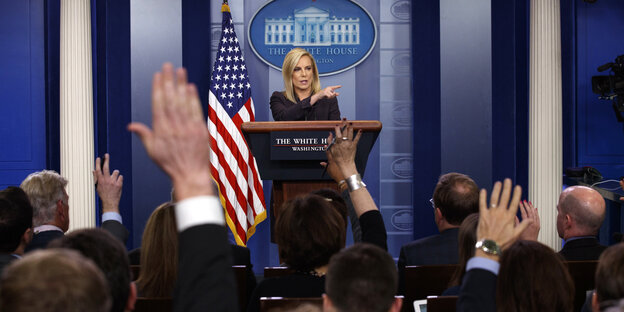 Who knows who here? The Minister for Internal Security Kirstjen Nielsen at a press conference Photo: ap
The US Department of Homeland Security (DHS) needs help with a major task. For around a week now, an advertisement for the "Media Monitoring Services" area has been posted on the ministry's website.
We are looking for a company that is able to create a database. For this database, up to 290,000 sources worldwide in more than a hundred languages ​​from traditional and social media are to be evaluated, including Arabic, Chinese and Russian news, tweets and posts.
The aim of the mission is to find so-called top media influencers who report on issues relating to the Ministry of Homeland Security or "other relevant events". Employees would then have access to a password-protected database of opinion makers such as journalists, editors, correspondents, opinion makers in social media, bloggers, etc. "24 hours a day, seven days a week".
"The usual practice"
In terms of content, it is also of interest which "opinion maker" lives where and how the person is networked and can be reached. But "any other information that could be relevant" is also of national importance. So also the medium someone works for and the published content.
The mission is subordinate to the NPPD, a subdivision of the DHS, which is located in the state of Virginia. There, inquiries and speculations that the mission could be a reaction to Russian espionage activities are answered with humor: When various media asked what exactly the job was about, the ministry referred to a tweet by press spokesman Tyler Q. Houlton.
Accordingly, the job advertisement is "nothing more than the usual practice" of monitoring current events in the media. Every allegation is something for "aluminum hat conspiracy theorists". The fact-checking website snopes.com then wanted to find out what the "usual practice" was. Houlton's answer: "Just as you watched the media bring this story, so does the DHS." He seems to have missed the fact that the media seldom set up extensive databases of places of residence and contacts.