Who authorized to send our garbage to China?
INTERPOL report on Illegal Trends in the Global Plastic Waste Market
Plastic waste is probably the type of waste that receives the most media attention in our time.
Much of the discussion about quantities, pollution, recycling, import and export of waste revolves around plastics.
Thanks to their many useful properties, it is practically impossible to imagine everyday life without plastics.
In relation to the total amount of waste, the amount of plastic waste is rather low, but steadily and growing worldwide.
Properties that are desirable in use make the mismanagement of old plastic particularly problematic for the environment and health.
In order to understand how illegal activities have recently developed in this context and to identify actors and effective countermeasures, INTERPOL published an extensive study in August 2020.
For a long time, China was the main buyer of plastic waste from around the world.
Since the early 1990s, China has imported almost half of all global plastic waste.
A total of over 112 million tons valued at around $ 61 billion.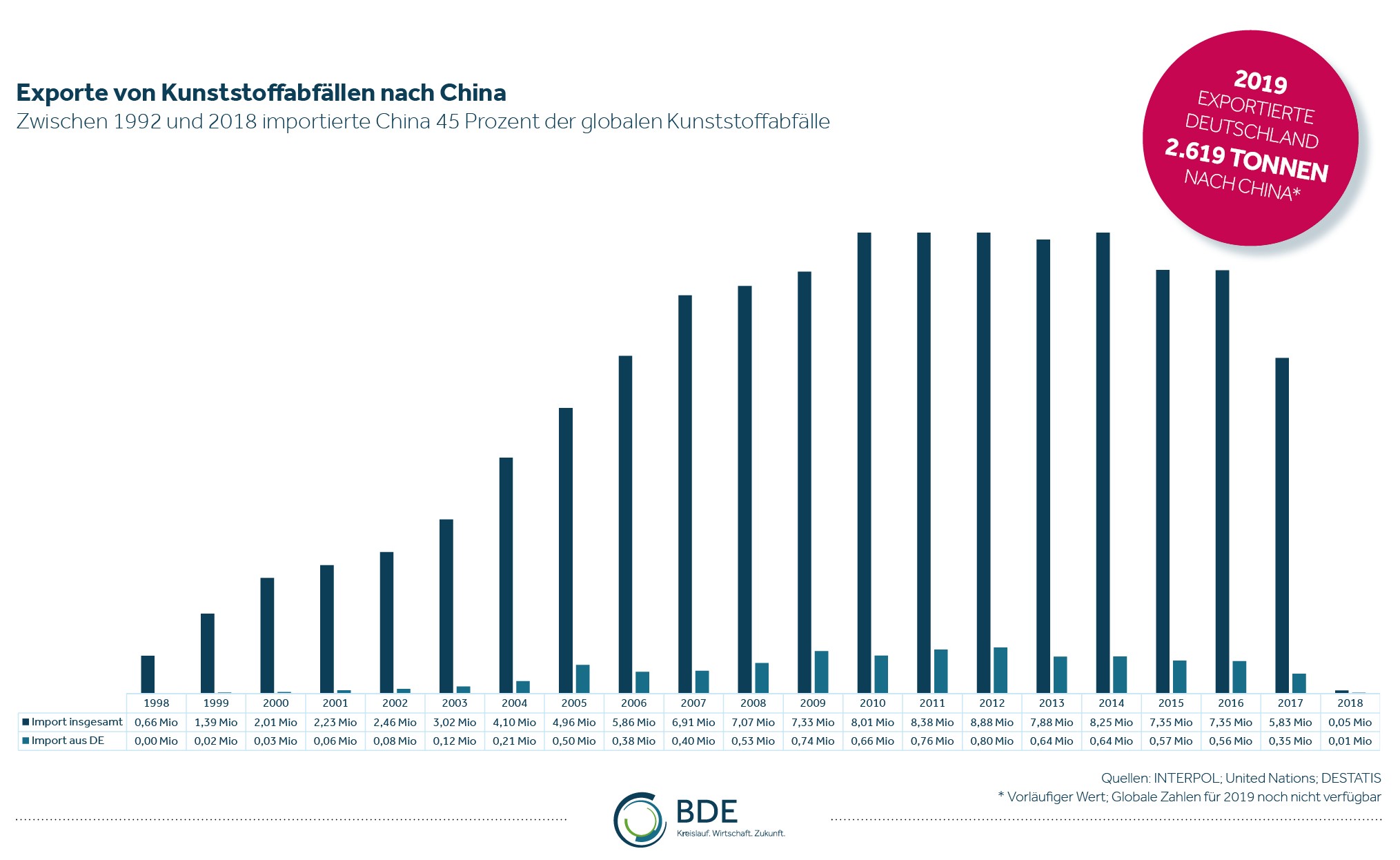 When the import restrictions (also) for old plastics came into force, it became clear in 2018 how dependent the global market had been on China's recycling sector.
Key trends from the report
Exports of plastic waste to China have fallen massively or have been stopped entirely since 2018.
Multiple rerouting and transit obscures the origin of illegal waste shipments.
Since January 2018, illegal waste shipments have been detected on 20 percent (52 of 257) of the transport routes.
At the same time, the import restrictions have led importers to move to countries with fewer controls, especially in Southeast Asia.
Illegal waste treatment in unauthorized recycling facilities has increased.
In some countries of origin, cases of illegal waste treatment have increased.
An increase in the number of false declarations of transports was noted.
There has been an increase in fires (intentional and unintentional) in approved and unapproved treatment facilities.
The increase in quantities increasingly leads to illegal storage, landfilling and incineration in 40 percent of the countries.
Affected countries were here ...
Australia (illegal dumping / storage),
Chile (illegal dumping / storage and garbage fire),
France (illegal dumping / storage),
Ireland (unauthorized operation of recycling plants),
Italy (illegal dumping, unauthorized operation of recycling plants and garbage fires),
Malawi (illegal dumping),
Malaysia (unauthorized operation of recycling plants),
Sweden (illegal dumping / storage, tipping and garbage fires),
Slovakia (illegal dumping),
Spain (garbage fire),
Thailand (illegal dumping, unauthorized operation of recycling facilities),
Czech Republic (illegal dumping / storage).
Example Indonesia
In 2019, 1,095 containers with plastic waste were imported to Indonesia and checked. 433 or 45 percent of these were incorrectly declared and repatriation to the exporting country was initiated.
Example Malaysia
In the wake of the Chinese export restriction, Malaysia suddenly became the main destination for plastic waste from all over the world.
As a first measure, imports of plastic waste were therefore banned between July and October 2018.
As a result, legal imports fell, but illegal transports rose immediately.
As a further measure, Malaysia began in the last quarter of 2019 to send 150 containers with around 4,000 tons of plastic waste back to their countries of origin.
43 containers went back to France, 42 to Great Britain, 17 to the USA and 11 to Canada.
The remaining states were Spain, Hong Kong, Japan, Singapore, Portugal, China, Bangladesh, Sri Lanka and Lithuania.
Example France
In connection with the illegal plastic waste exports to Malaysia, French authorities imposed a record fine of 192,000 euros on the responsible trader.
At the same time, major French commercial waste producers announced that they would be stepping up monitoring of disposal and ensuring compliance with environmental standards.
Finally
The INTERPOL report contains in detail the relevant problems related to the illegal import and export of plastic waste.
To present the entire results of the 61 pages at this point would go beyond the scope here, but a look inside is definitely worthwhile for anyone interested in the topic.
As an association, we see ourselves fully confirmed by the report in the points that we have already put forward for a long time:
It is a global problem.

Illegal waste transports cannot be prevented by prohibiting legal waste or making it more difficult. On the contrary, it increases your profitability.

The legal framework is there, but it has to be enforced.

As shown by the example of Malaysia and France, controls in the interaction between the destination and recipient countries are effective in order to uncover, prosecute, publicize and ultimately prevent them - as is the case with any form of international crime.

At the same time, waste producers are made aware that they are responsible for the legally compliant disposal of their waste.

Regional recycling must become so attractive that shipping is no longer worthwhile.

Regions in which there is no or insufficient disposal infrastructure must be supported in building up capacities.

The technology and know-how for this is already available today.

This not only helps the environment, but also creates jobs and sustainable growth.

A ban on landfilling of untreated municipal waste would close the "cheapest" disposal route for those who cause it and the most expensive for the environment.