Is the Israeli election at a dead end
Comment: Netanyahu at a dead end
"Investigated against the investigators!" the Israeli Prime Minister called on the public. Full of self-pity, he criticized the judiciary and security agencies for making him a victim. Although he "fought for the country and was also wounded" all his life, the judiciary and police had been trying for some time to harm him with new investigations. In reality, however, it is primarily harming the state. What happened there was a kind of coup attempt, but as much as he and his family suffered as a result, he was determined to continue to serve the country.
Less than 24 hours had passed - for Netanyahu this, too, is evidence of his conspiracy theory since the Israeli opposition leader Benny Gantz of the "Blue-White" party alliance returned the order to form a government on Wednesday evening and the public began to look at the new situation Get used to it, because Attorney General Avichai Mendelblit opened a new chapter. New, although it had been expected for over a year: the formal indictment against Israel's prime minister, who has been acting as a transitional premier for almost a year because he was primarily preoccupied with an election campaign and two elections. And trying to avoid the charges and their consequences for his political career. The prosecutor has now announced that Netanyahu will be charged with bribery, breach of trust and fraud in three cases.
The end of the Netanyahu era?
All of a sudden it seemed to have forgotten what had just dominated the headlines: Instead of discussing the question of whether and when there would be new elections - the third within 12 months - the question was now whether, when and how the era Netanyahu will come to an end and what will come after him, who is after all the longest-serving Prime Minister of Israel (1996 to 1999 and 2009 to today).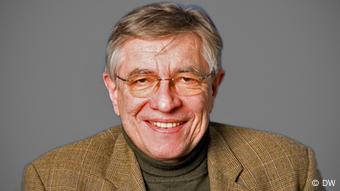 Peter Philipp was a correspondent in Israel for many years
With the failure of the attempts to form a coalition, a three-week period actually begins in which every MP could get the job - provided he is supported by at least 61 of the 120 Knesset MPs.
If this does not succeed, the "Knesset Committee" has to decide on new elections. So far, so good, but there is currently no Knesset committee because after the failure of the formation of a government by Netanyahu after the April elections, a new election date was set for September and the parliamentarians only function as a transitional parliament - like the Netanyahu government as Transitional government.
The bringing of charges against Netanyahu does not make the process any easier: it had been discussed repeatedly in advance, but none of the main actors had a workable solution to offer. Netanyahu continued to try to avoid trial through immunity, but this had little chance of success because it would require a law that a transitional parliament cannot pass. Especially not if the only purpose was to protect the prime minister who is being harassed by the judiciary.
"GroKo" as a possible way out?
As long as Netanyahu and then Gantz were negotiating the formation of a government, there might have been a way out: President Rivlin had recommended that both of them form a grand coalition. Netanyahu could initially remain head of government, but in the event of an indictment and trial, he could withdraw and transfer the official duties to his deputy (Gantz). In the event of a guilty verdict, he would have to resign, if he were "innocent" he could return to office.
Nothing came of it because each of the two had their own ideas. Perhaps, however, such a grand coalition could still be a practical solution: one day, Israeli politics might find a more moderate tone, after recently insulting each other as "racists" and even as "anti-Semites". Politicians could perhaps also find a more moderate stance after the course of the Netanyahu government with active support from Washington - for example on the issue of settlement policy and international law - became increasingly extreme. After all, such a grand coalition would also be a way of preventing Netanyahu from abusing a military conflict to continue his term in office - as provided by law. Everyone knows that such conflicts can break out quickly and at any time in the Middle East: Today in Gaza, tomorrow with Lebanon or Syria. Or also Iran.