What happens during a freshman orientation
Orientation week
This is how you start your studies successfully!
How do I create a timetable? Who is studying with me? And what do I have to consider when organizing my studies? Learn more at the Orientation week (O week) Before the start of the lectures, the students from the student councils organize for you an introduction to university life. This is how you start your studies perfectly prepared!
Dates of the O week in the summer semester 2021
Orientation weeks for international students:March 29 to April 11, 2021
We recommend that international students also take part in the orientation weeks of the respective faculty where they are studying.
Orientation weeks for all students:
Students of the Faculty of Computer Science and Mathematics (also teaching degree in computer science): April 1st (start of computer introduction), then April 6th to 9th, 2021
Stud.IP-No .: 244 and 5000

Students of the Philosophical Faculty: April 6-10, 2021
Stud.IP-No .: 060421

Students of the Faculty of Economics: April 6th to 9th, 2021
Stud.IP-No .: 29010
Orientation weeks for international students
The International Office offers international orientation weeks for international students.
O-week programs of the student councils
The student councils of the four faculties as well as the student representatives for teachers each offer their own introductory programs. You will find the current events about one to two weeks before the O week on the following pages:
Central introductory events
Information technology
The Center for Information Technology and Media Management (ZIM) provides extensive information Questions about the
ZIM ID,
digital campus (Stud.IP, campus portal, HISQIS etc.)
student email
WLAN access
in a video presentation: Introduction to the use of IT services.
language Center
The language center provides information on the Placement tests for language courses, the take place before the O week can, as well as for foreign language training in general.
For all course beginners there is the "Survival Kit" offer during the O week (events on the topics "Self management", "Learn learn" and "Scientific work"). Registration via Stud.IP.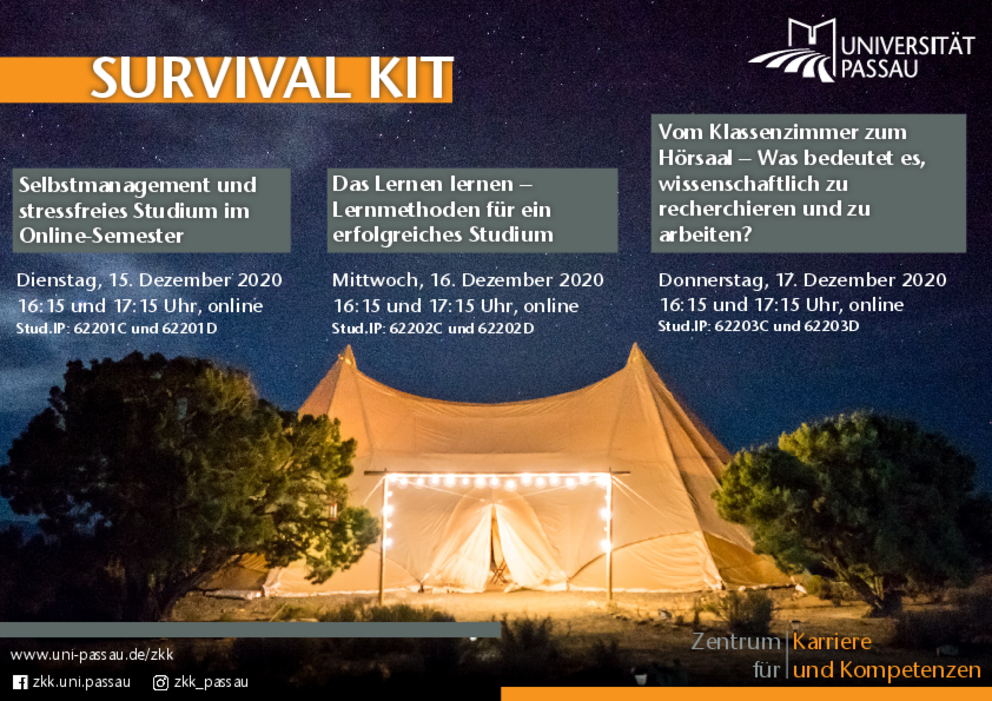 Who can I ask?
If you have any questions, you can contact the student councils and the student advisory service.