Should I invest in electric bikes?
E-bike stocks: These trend papers are available
In the general excitement about the environmental problems of internal combustion engines, especially German manufacturers such as BMW, Daimler and VW are coming under pressure, keyword: driving bans for diesel. On closer inspection, however, even e-vehicles are no real hope because of the poor environmental balance of huge batteries in masses.
Meanwhile, cycling is becoming increasingly popular. The fact that even less sporty contemporaries discover the attraction on two wheels is due to the drive assistance provided by e-bikes. Stocks in the sector should actually have potential.
Considerable growth rates
You not only hit the nerve of the times, but also open up new groups of buyers. With their additional drive, e-bikes allow higher speeds and ranges, even if you run out of breath. The variety ranges from handy batteries to replacements for classic mopeds. With a maximum of 25 km / h, only an insurance license plate is required.
Depending on whether it is a bike with electric assistance for the city, an e-mountain bike or a hip recumbent bike, the prices range from roughly 400 euros to 3,000 euros and more. A blessing for the traditionally rather low-margin business.
The trend was already apparent years ago, which is why shares in e-bike manufacturers were touted as an investment in green mobility. In fact, earlier forecasts have been confirmed by the growth rates of recent years. In 2016, sales increased by 13%, a year later it was around 15%. A top value in the consumer goods sector.
E-bikes recently contributed 38.7% to total bicycle sales of over EUR 3.1 billion. The Association of the Two-Wheeler Industry (ZIV) expects sales to triple within four years. There are allegedly over three million e-bikes currently on the road in this country. This makes Germany the third largest market in the world after China and India.
Only a few e-bike stocks
However, anyone interested in e-bike stocks will find only a few. In Germany there are mainly small and medium-sized providers. Quite a few belong to large corporations. The former Mifa no longer exists in its old form. The Mitteldeutsche Fahrradwerke from Sangershausen went public in 2004. At the beginning of 2015, however, the share was withdrawn from Deutsche Börse because Mifa was broke. After attempting to rescue it as a GmbH, it fell into bankruptcy again and is now part of the Indian manufacturer Hero Cycles as Sachsenring Bike Manufaktur.
Since then, there have been only three public companies worldwide of pure manufacturers in the narrower sense. The two Chinese companies Giant and Merida are listed on the Taiwan Stock Exchange. However, they are out of the question for private investors due to their inadequate transparency and poor tradability. The market leader in Europe remains essentially: Accell Group. The Dutch are known in this country with brands such as Ghost, Minora and Haibike.
In 2017, Accell was able to fend off an attempt to take over the conglomerate Pon Holding and remain independent. Bikes are manufactured with and without a drive. While sales of traditional bicycles are falling significantly, the share of e-bikes has risen to 62%. Despite continuously increasing sales to around 1.7 billion euros, operating profit fell for the first time in 2017: by 21.4% to 70.65 million euros.
Accell wants to turn things around
Accell now has ambitious plans with restructuring to increase its profitability again. By 2022, sales are also expected to increase to 1.6 billion euros. This year should bring the turning point. For the time being, shareholders have to be content with a dividend cut by 30%. At least the first half of 2018 is optimistic again. The share should recover significantly. Most recently it fell by half after its all-time high of 32 euros in mid-2017 and is currently severely undervalued.
If you are interested in e-bike stocks in the broader sense, you should look at suppliers. For example Panasonic, which supplies suitable batteries for almost every model and cooperates with Tesla at their battery factory. Voltabox also supplies batteries for e-bikes. The company from Dellbrück went public in October 2017. In Japan, on the other hand, Shimano is the world's leading supplier of chains, gears and e-bike drives.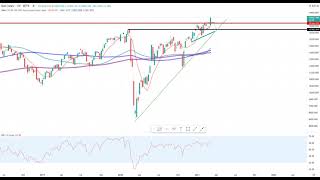 Dax30 - Weekly Review and Trading Idea Check! Welcome to a new edition of the John Gossens Daily Dax video newsletter. I analyze the international stock markets twice a day for you and in the morning we always start with the view… ›read more
© Verlag für die Deutsche Wirtschaft AG, all rights reserved